SUPPORTING PUBLIC EDUCATION AND EQUAL OPPORTUNITIES
For over two decades, through their Foundation, the Broads supported public K-12 education systems nationwide by focusing on exemplary school district leadership, high-quality public charter schools, federal and state policies and active parent and community engagement. Eli partnered with academic institutions, unions, politicians as well as business and local communities to support public education reform at all levels. The story of his efforts to improve America's public education system is one of success and missteps as well as friends and foes, but his motivation remained constant: He believed that every child should have equal opportunities to learn, overcome adversity and pursue dreams.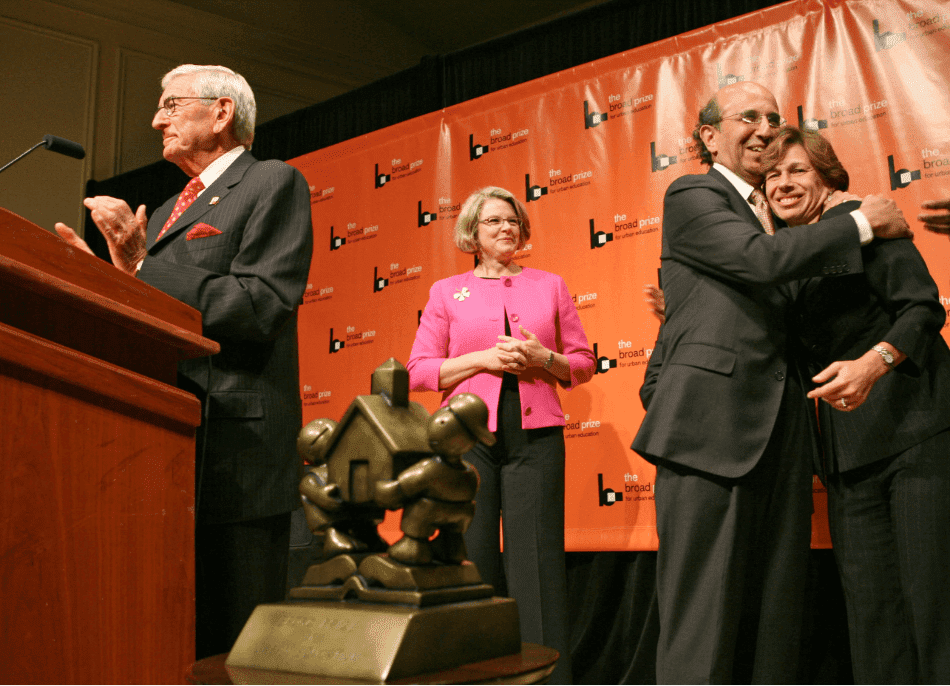 Eli awarding the Broad Prize for Urban Education with Margaret Spellings, Joel Klein and Randi Weingarten, 2007. Photography by Diane Bondareff
Pitzer College: The Start of Eli's Non-Profit Service
In the summer of 1970, a year before Kaufman and Broad officially announced the purchase of Sun Life Insurance Company of America, Eli received a phone call from Pitzer College President Robert Atwell asking for Eli's support. Attracted to the idea of Pitzer as a place for the study of social problems and solutions, Eli accepted an invitation to join Pitzer's board.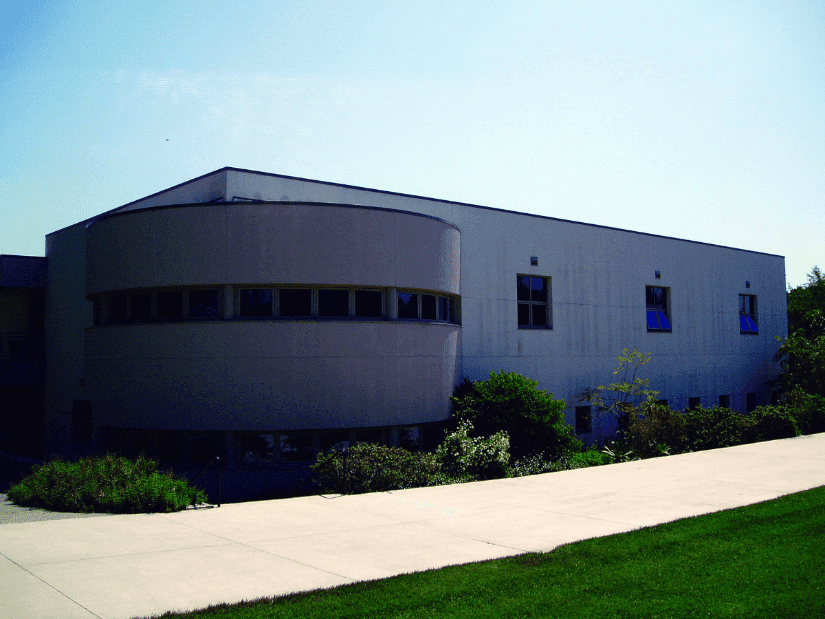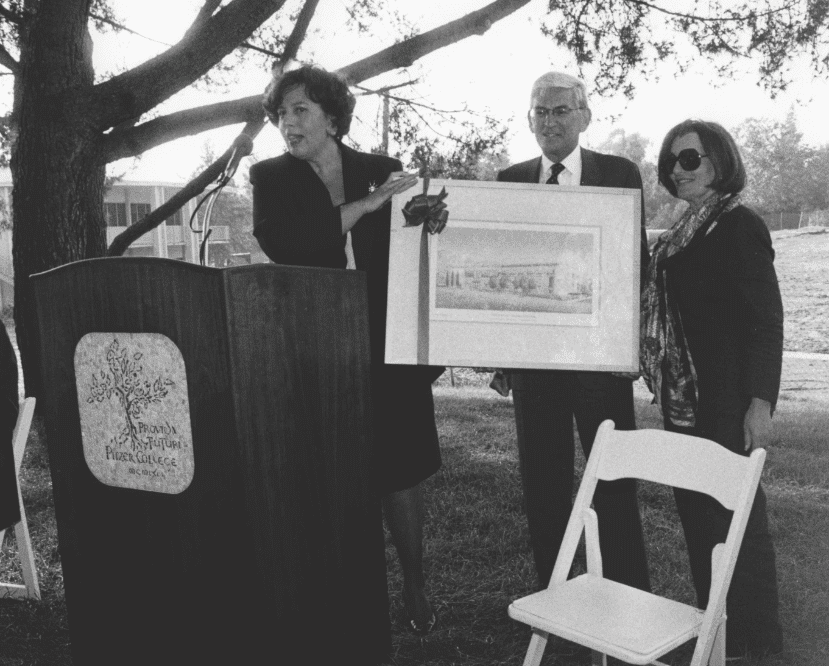 Top: The Edythe and Eli Broad Center and Broad Hall at Pitzer College in Claremont, California . Courtesy of Pitzer College Bottom: Eli and Edye at Pitzer College
Pitzer provided Eli his first opportunity to bring the skills evident since childhood and honed through his career—being entrepreneurial, raising and budgeting money—to bear on causes that mattered to him.
In the fall of 1974 Pitzer's trustees elected Eli chairman of the Board. Eli's first success as chairman was to ease Pitzer's financial burden by advocating that the college adopt a more flexible retirement plan. In addition to leading the effort to choose a new president for Pitzer, he also strategized concrete and not too costly solutions to improve the school—better faculty-trustee relations, a marketing program, a stronger Board and a strategy for securing large donations. The revised Board and the invigorated financial team put Pitzer on sound footing heading into the 1980s.
The Eli Broad Graduate School of Management
Through his newly formed family foundation, The Eli and Edythe Broad Foundation, Eli directed two major donations in higher education to institutions with which he had close and long-standing relationships: Pitzer College and Michigan State University. By the summer of 1991 The Eli and Edythe Broad Center stood as a gateway to the Pitzer campus, at Mills Avenue and 12th Street. Meanwhile, at MSU, a new graduate school with its own building was named the "Eli Broad Graduate School of Management." The business school is now ranked in the top 10 for its Executive MBA program among public universities and has climbed to rank among the top 15 public undergraduate programs, according to the U.S. News and World Report. In keeping with the Broads' philanthropic mission to support the public good, their Foundation's gift came with a requirement that Michigan State's business school teach students how to incorporate their values into their careers.
On the heels of major donations to Pitzer College and Michigan State—which launched the Broads onto lists of the most philanthropic Americans—Eli joined the board of the California Institute of Technology (Caltech), the gem of higher education and scientific research in Southern California in the early 1990s. At several of the region's most prominent campuses—UCLA, USC, Caltech, Pitzer College, CalArts—buildings devoted to education, science and art now bear the Broad name.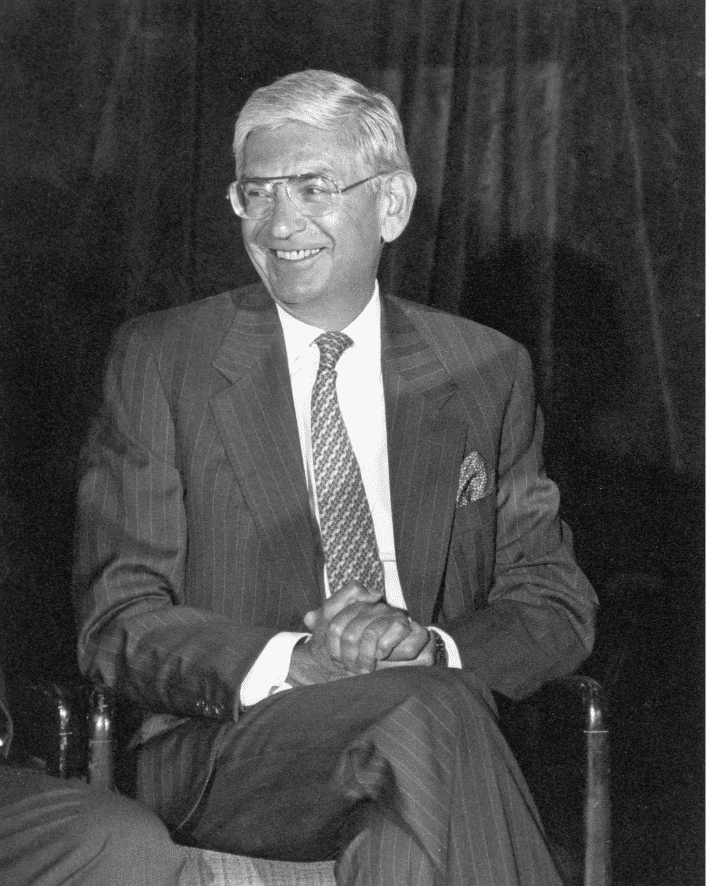 When budding entrepreneurs, eager to hear Eli's secret of success, asked him his singular advice, he always replied: "There's no one thing."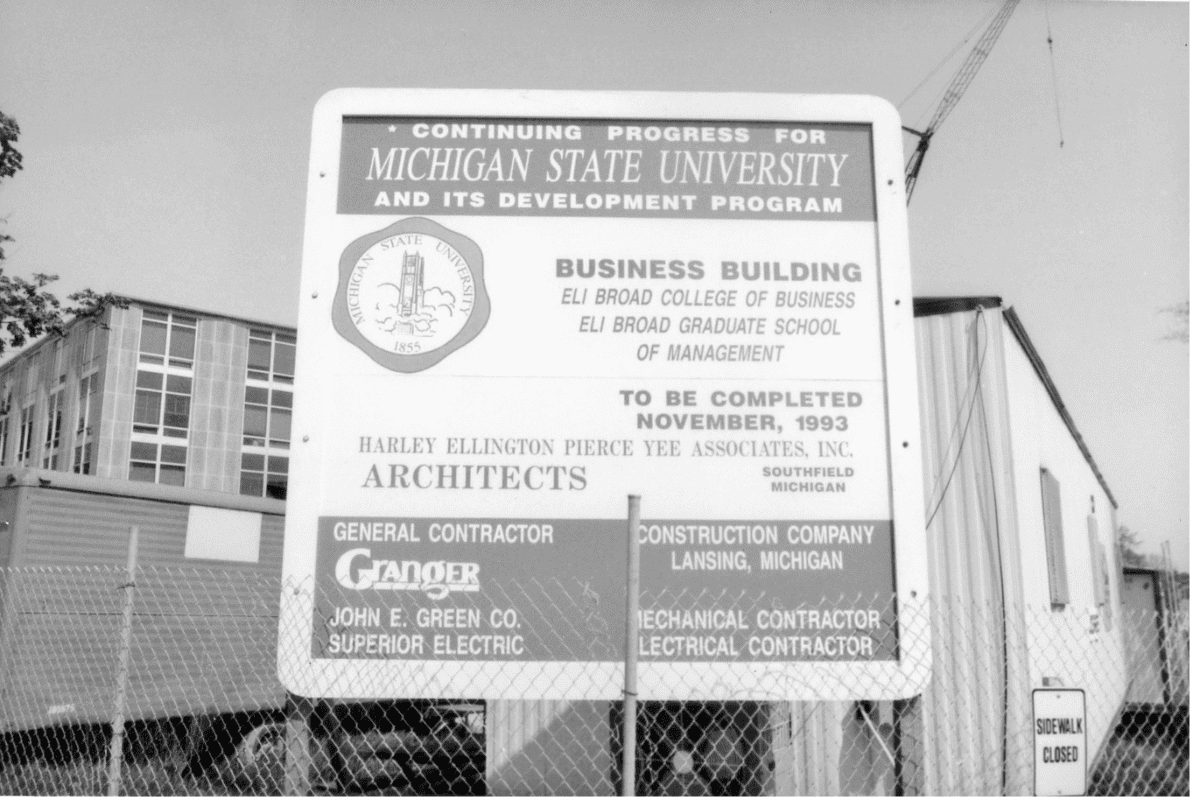 Public k–12 education is fundamental to an equitable society
In 1999, the Broads began exploring how to make a difference in K-12 public education. Their vision was clear from the start: dramatically transform public education so that all students, particularly students of color and low-income students in urban public schools, have access to a great public school. For the next two decades, the Foundation's overarching areas of focus in its education grantmaking would be: leadership and talent, governance and systems, policy, research and sharing best practices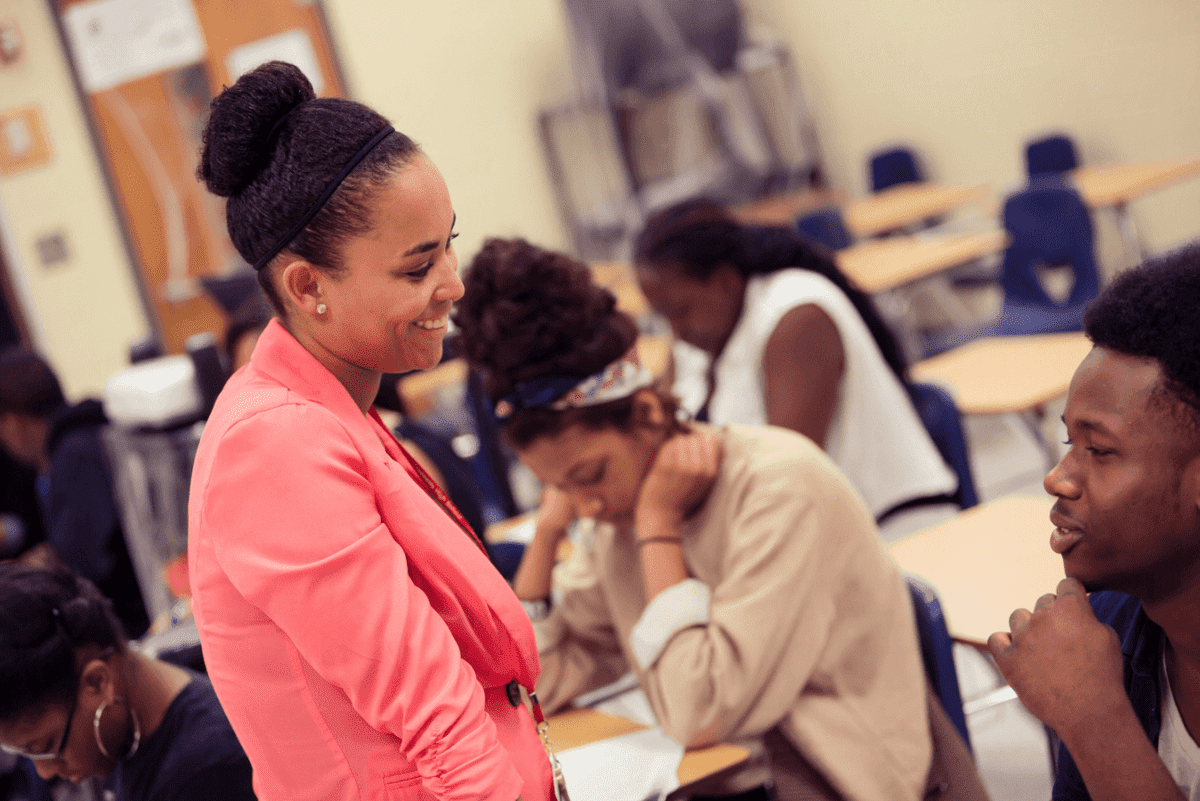 Teach For America corp member and students. Photography by Willie Petersen
Drawing from his success as a businessman, Eli believed that true sustainable change started at the top. Initially, the Foundation's primary focus was leadership, an area of expertise for Eli and, at the time, an area to which almost no attention was paid in education philanthropy. He worked with his Foundation team to develop and support superintendents and school district leaders, advocate for improvements to district governance and operations, partner with labor, provide resources to enhance human capital and performance management systems, and encourage exploratory research and innovation in the form of public charter schools. Eli understood philanthropy alone could not solve these complex issues, so he used grantmaking to prototype new initiatives and scale proven efforts to create proof points for policies that would enable systemwide change.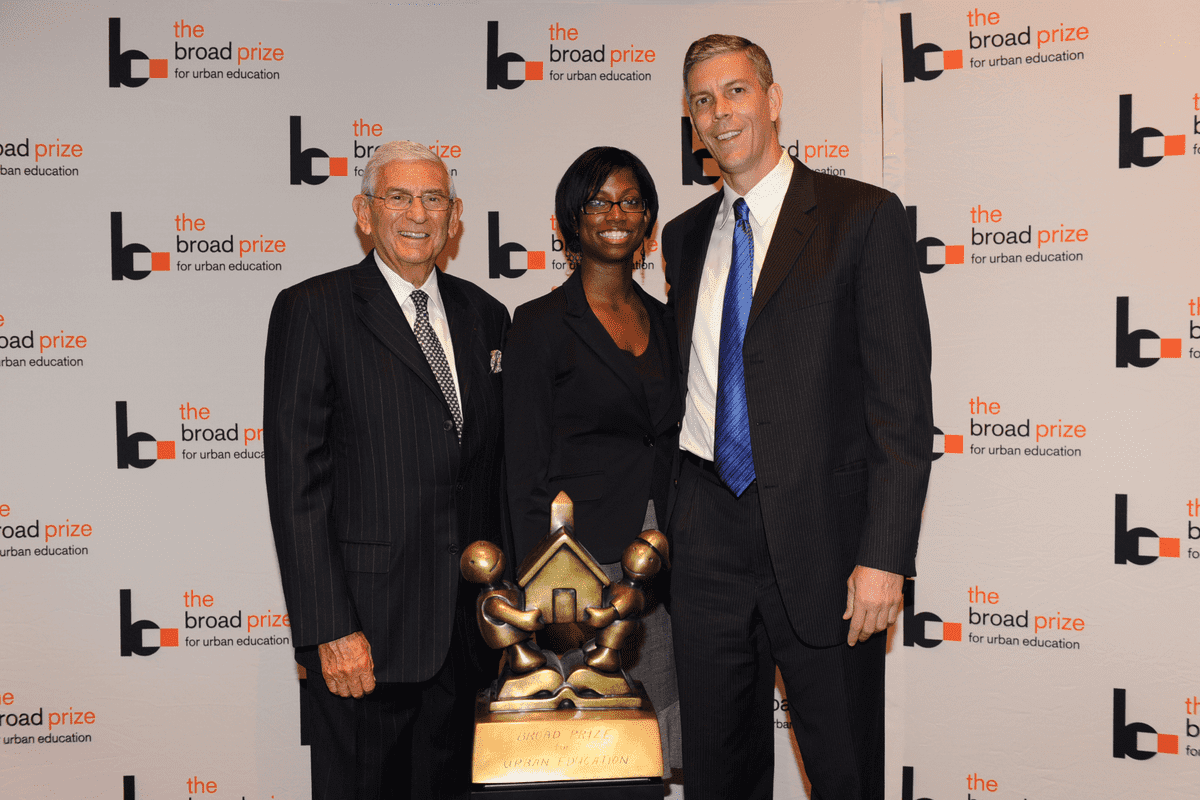 Eli with Cindy Legagneur, 2003 Broad Prize scholarship recipient, and U.S. Secretary of Education Arne Duncan, at the Broad Prize for Urban Education, 2009. Photography by Diane Bondareff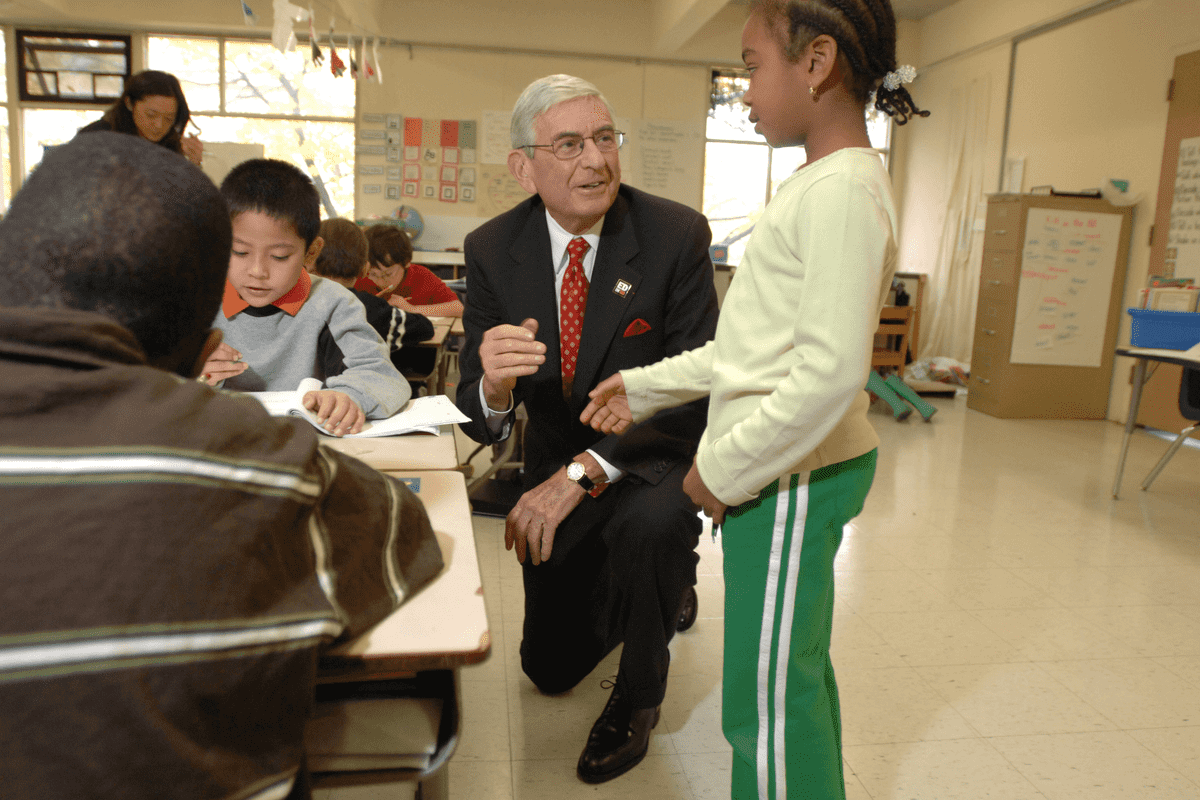 © 2007 Josh T. Reynolds
Beginning in the early 2000s, the Foundation supported numerous organizations that were committed to improving education in K-12 public schools. Over two decades of grantmaking in public education, the Foundation invested over $600 million, supporting a range of grantees, including:
Teach For America, New Leaders for New Schools, Chiefs for Change, DC Public Schools, New Orlean's educational recovery after Hurricane Katrina, New York City Department of Public Education, Students First, Education Reform Now, National Center for Time and Learning, Educators for Excellence, Harvard University's EdLabs, Khan Academy, Next Generation Learning Challenge, New Classrooms, KIPP, NewSchools Venture Fund, Silicon Schools Fund and Success Academy.
In 2001 The Broad Center was founded to recruit, train and support talented leaders across America to transform urban public school systems through two distinct programs: The Broad Academy, an executive leadership program for current and aspiring school system CEOs, and The Broad Residency in Urban Education, a professional development program for managers working in school system central offices. In its 20 years as a grantee of the Foundation, the two programs of The Broad Center successfully trained more than 850 education leaders working in over 150 urban school districts, public charter school networks and state education agencies nationwide. More than 150 Broad Center leaders have served as superintendents or chief executives of local and state systems. Each program made great strides in building a
diverse network of exceptional leaders who better represent the students and families they serve and in making significant improvements within their school systems. In December 2019, The Broad Center began a transition to its new home at the Yale School of Management with a $100 million gift from the Foundation. With Yale's additional support, The Broad Center will exist in perpetuity offering a free master's degree program for emerging public education leaders and advanced leadership training for top school system executives. The Broad Center at Yale School of Management welcomed its first cohort in the midst of the Covid-19 pandemic and the alumni community remain loyal and devoted to the mission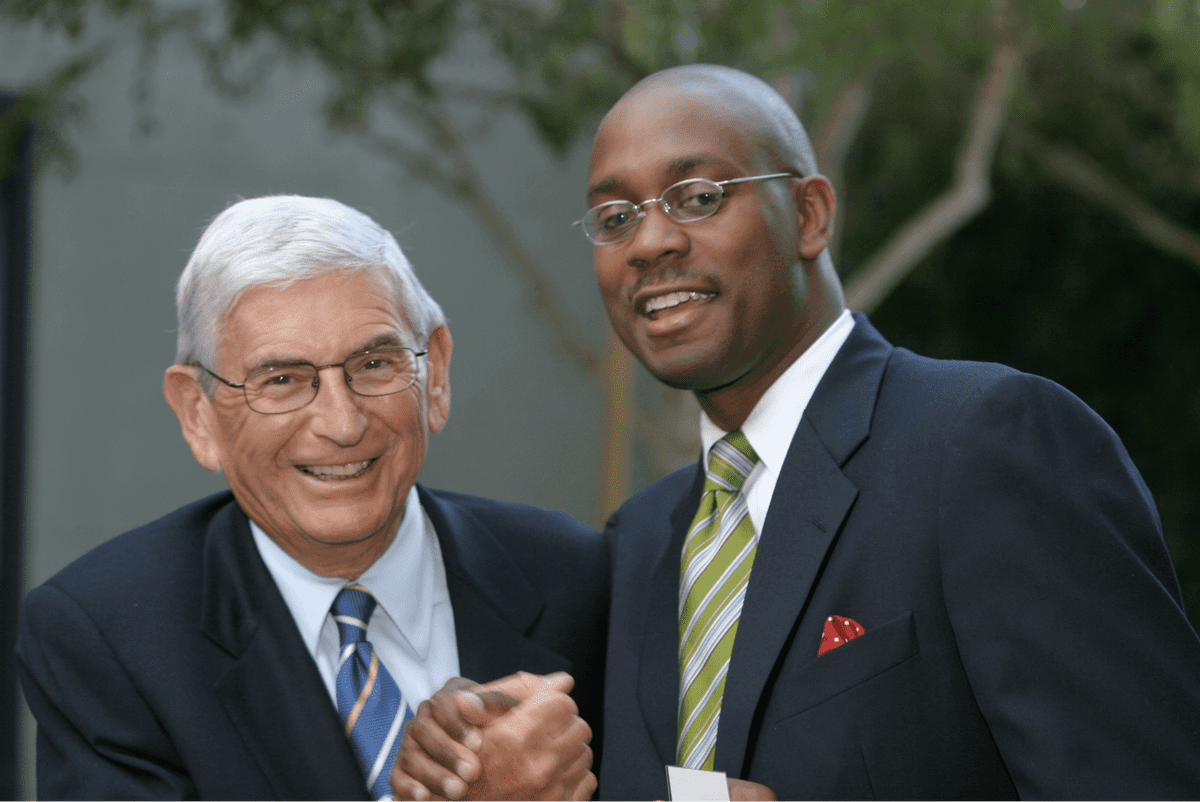 Eli with Broad Residency cohort member Darryl Cobb, 2003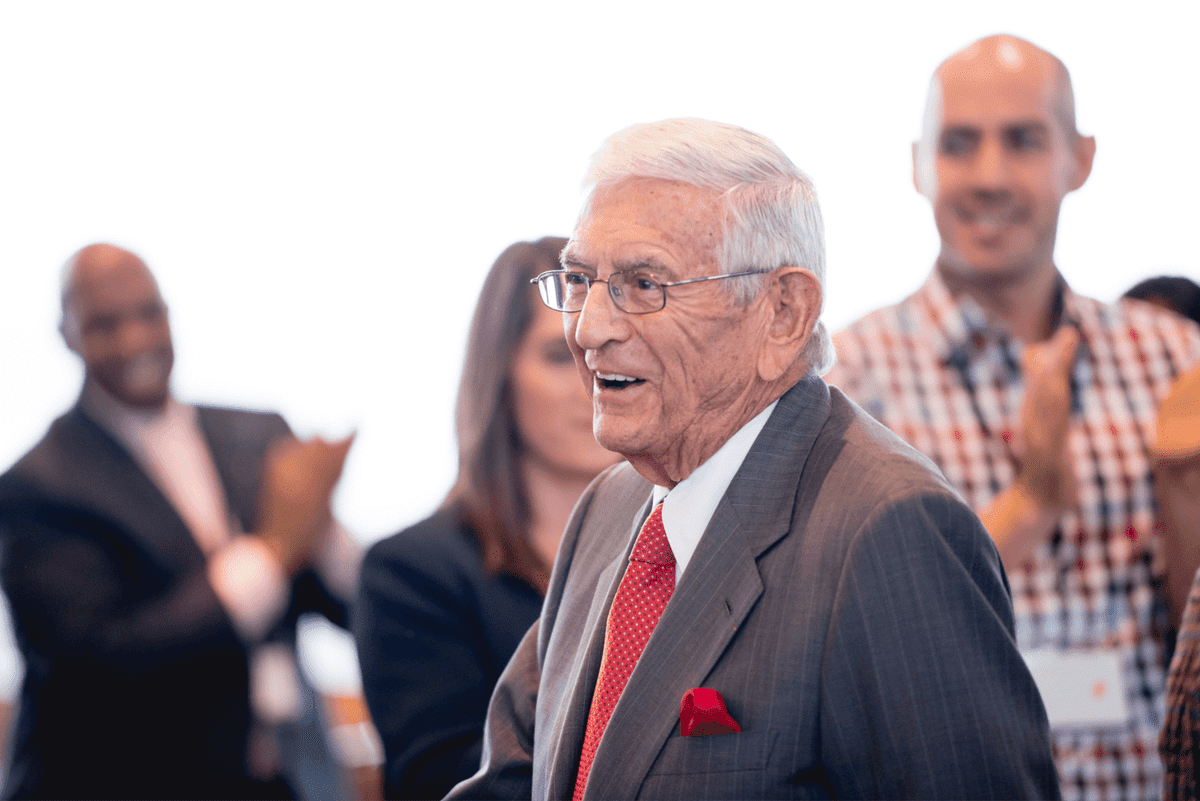 Eli at The Broad Center Forum, 2017. © BenGibbsPhotography.com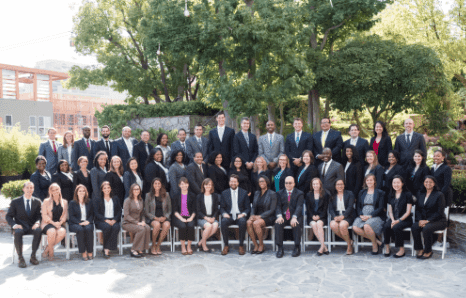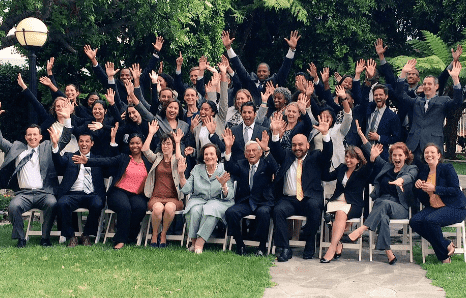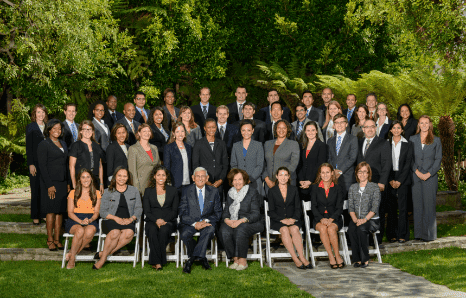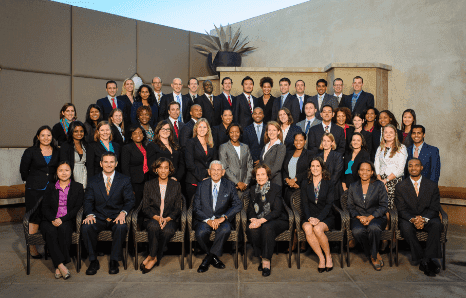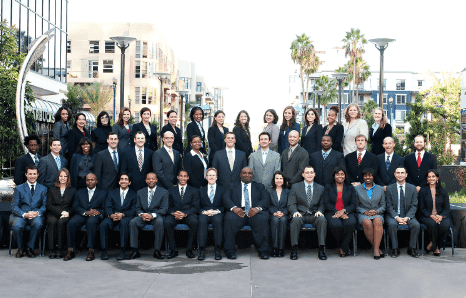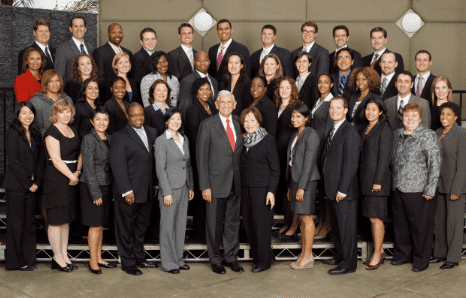 Broad Residency cohorts, 2010-2016
Honoring Family Heritage Through Educational Donations
The Broads were always mindful of their adopted hometown, but also their family and cultural roots when it came to decisions about education and charitable initiatives. Decades after the death of his parents, Eli aimed to protect, with a few small donations, what Rita and Leon had held dear: their Jewish heritage. In honor of his uncle Joe, who helped to found a grade school in Israel where he taught for decades, Eli gave a generous donation to the Peres Center for Peace in Tel Aviv, which brings Israelis and Palestinians together with peace education, medical training and sustainability workshops. The Center was named after one of his uncle Joe's students: Shimon Peres, a Nobel prize-winning advocate for peace and former Prime Minister of Israel. In 2002, Eli funded the transfer of over 300 Torah scrolls from his parents' homeland of Lithuania to Israel and a seminar series for schoolteachers on Holocaust education.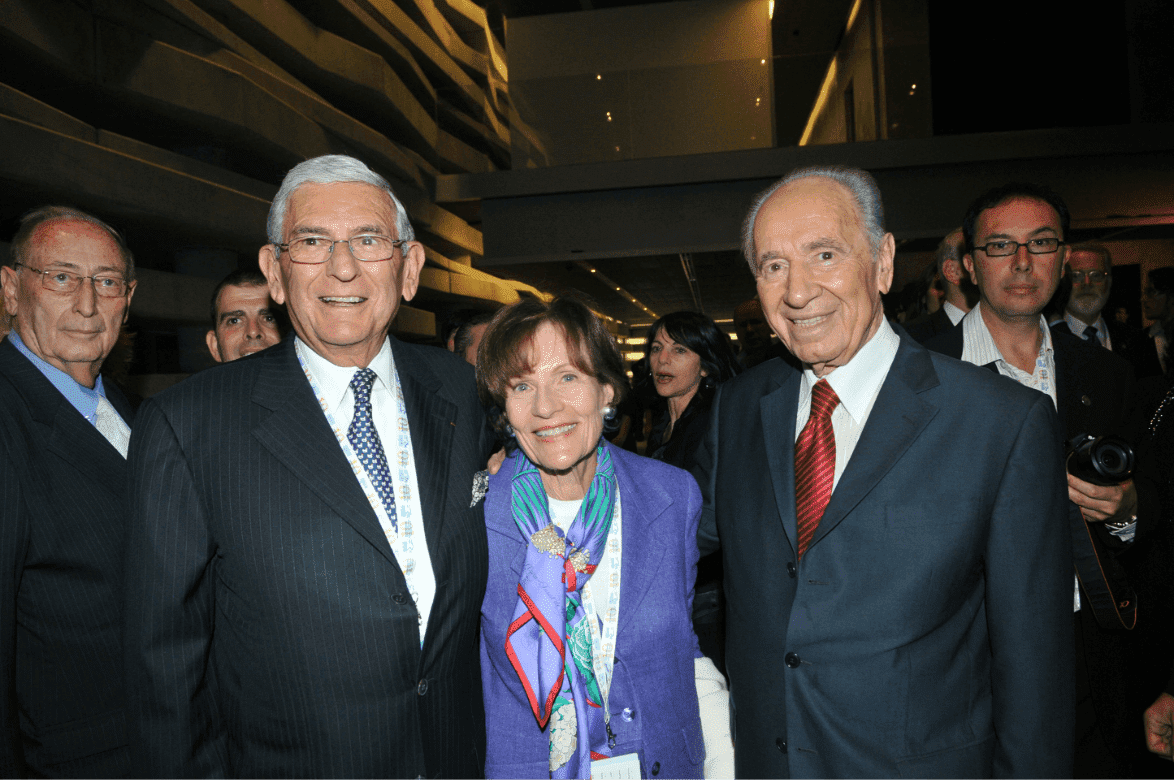 The Broads with Shimon Peres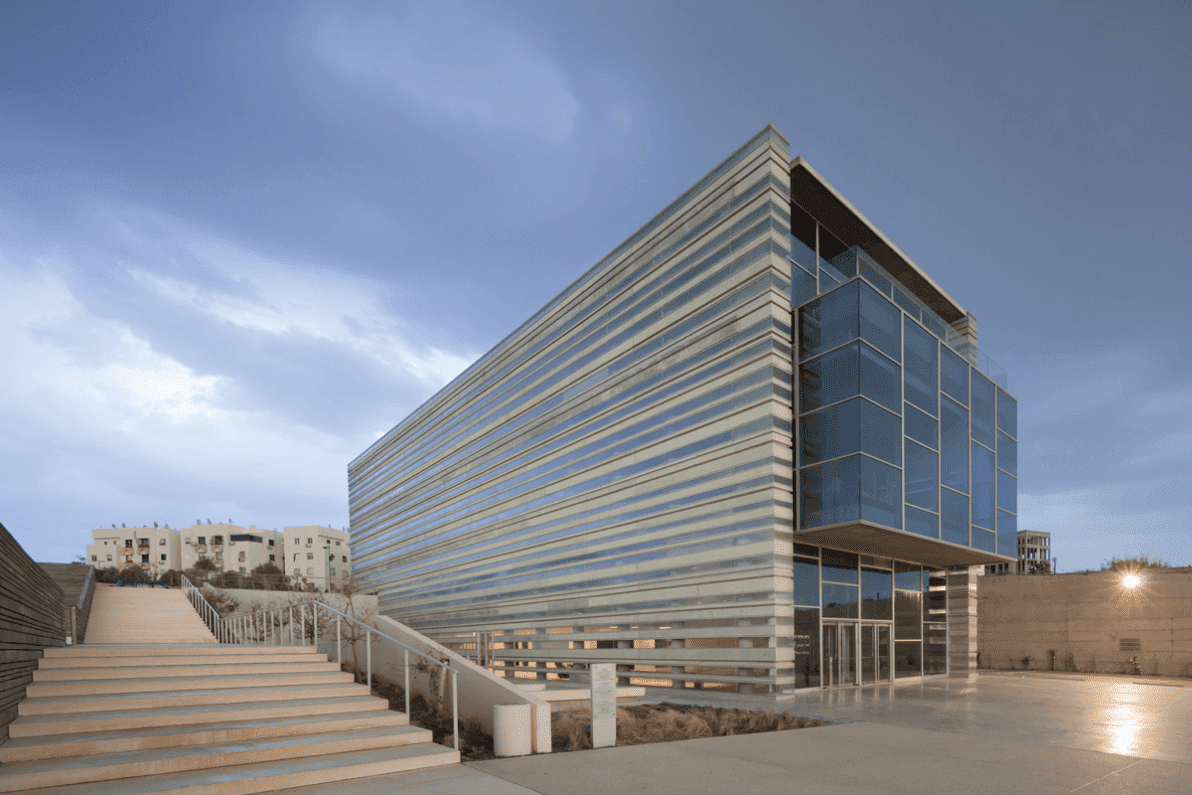 The Peres Center for Peace in Tel Aviv, Israel. Courtesy of the Peres Center: Yohan Zerdoun