The Art of Life: Los Angeles Sees a New Vibrant Center
In the winter of 1963, Eli focused fully on his company's first development in the new market. Researching public opinion in his new city, he found that many people were beginning to critique suburban sprawl not only for its transportation, environmental and financial costs, but also for its dullness and homogeneity, its deepening of class and racial lines and its cultural blankness. And, to Eli's dismay, he realized that Los Angeles did not have what he considered to be a true downtown. Eli was certain he had found a perfect niche in the Los Angeles market where he could leverage the region's beauty and create more opportunities for home ownership with his introduction of the townhouse. Within two years of living in Los Angeles, Eli had already made a name for his company in one of the largest and most difficult markets in the country.
Eli's financial success along with his sincere desire to improve the city set him up to have one of L.A.'s highest political, civic and philanthropic profiles. In June 1965, Eli was declared "Man of the Year" by the City of Hope cancer research, education and treatment center. In the decades that followed, Eli's efforts and influence would transcend the Los Angeles housing market into the city's art and culture scene, paving the way for iconic developments on Grand Avenue and throughout downtown, including L.A.'s first contemporary art museum (the Museum of Contemporary Art), the Walt Disney Concert Hall and The Broad museum, as well as setting in motion political endeavors such as the 2000 Democratic National Convention, the passing of important city measures and other civic initiatives.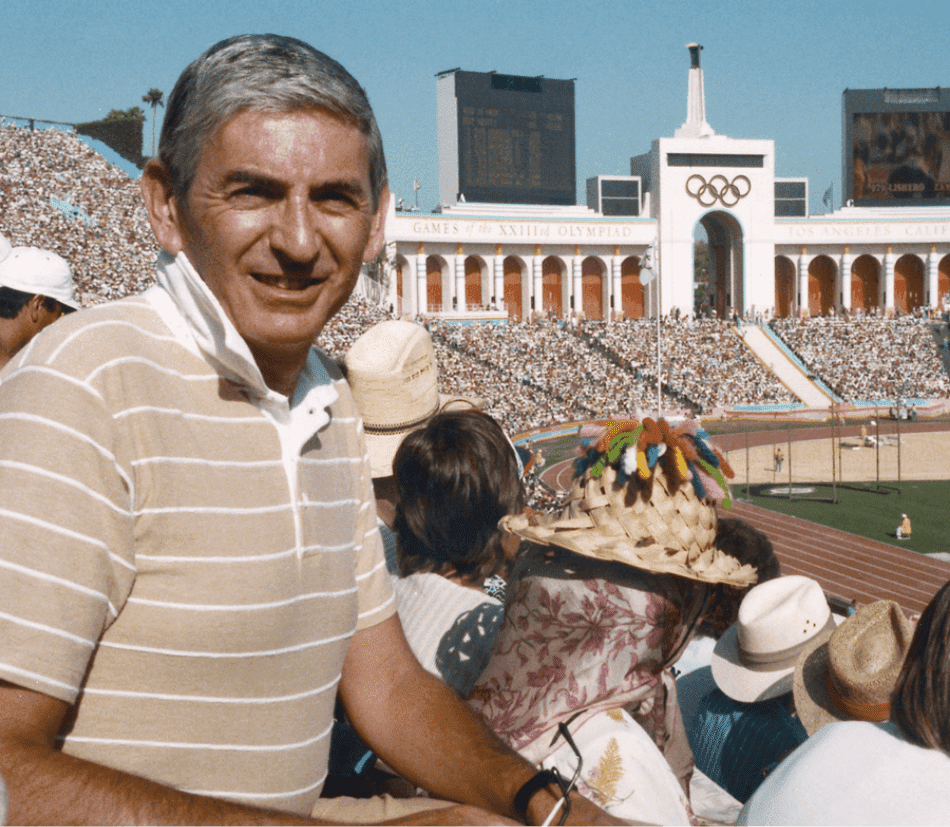 Eli at the Los Angeles Memorial Coliseum, 1980s
A great city needs a vibrant center where people come to enjoy cultural riches like museums, dance, opera, theater and the symphony, or to take part in civic life . . ."
—Eli Broad, excerpt from essay published in the Los Angeles Times
The Building on Bunker Hill: MOCA Makes a 'Grand' Statement
The Broads had first become interested in contemporary art in the beginning of the 1970s, a time when Los Angeles had a vibrant art scene: rich in grassroots galleries but not in institutions. New to Los Angeles and wanting to make the city feel like home, Edye had already started visiting local galleries in 1963. Before long, Eli's interest in art would take on a decidedly civic angle. Through their collecting, the Broads met art collectors Marcia and Fred Weisman. Eli became intrigued by Marcia's idea to establish a museum for contemporary art for L.A., and decided to help make it happen.
Los Angeles Mayor Tom Bradley, already an historic figure as the city's first African-American mayor, became a key ally in the new museum effort. Bradley had spent his first term befriending rising new business leaders and inking downtown redevelopment plans, laying the groundwork for Los Angeles' rise to world-class city status. Bradley supported the museum's development and appointed an ad-hoc committee, naming Eli to the 10-member team. Businesswoman and civic leader Andrea Van de Kamp came on board as development director to join Eli in leading fundraising efforts. The new museum would be called The Museum of Contemporary Art: "MOCA."
Eli's primary pitch to prospective donors was honed through the lenses he knew: demography and development. "We are now a new city—a vibrant, growing and exciting one," Eli had said in a Town Hall speech at the Biltmore Hotel on Grand Avenue before announcing the new museum's intent to be a "private museum with a public conscience." By the city-appointed deadline of summer 1981, the museum committee had not only met its $10 million goal but also surpassed it by $3 million. Its Board grew by leaps that year reflecting Eli's goal of transforming the philanthropic face of the city.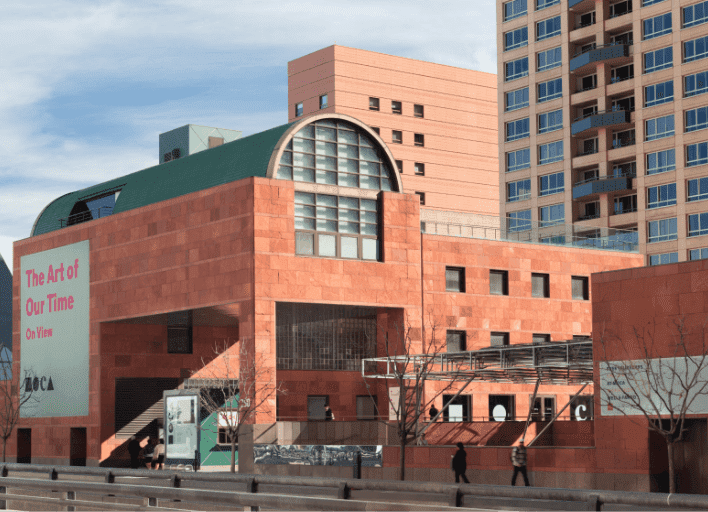 MOCA Grand Avenue, courtesy of The Museum of Contemporary Art, Los Angeles, photo by Elon Schoenholz
MOCA's historical place is "the founding of the most important art institute since the establishment of New York's Museum of Modern Art."
—Eli Broad, Town Hall Speech while fundraising for the MOCA development in L.A. (September, 1980)
In 1983, MOCA opened the Temporary Contemporary (later becoming a permanent branch of the museum and renamed The Geffen Contemporary), and in 1986, MOCA opened its Arata Isozaki-designed building on Grand Avenue. At the time, MOCA not only had a generous endowment, but also a respected and historic permanent collection thanks to the acquisition of Count Giuseppe Panza di Biumo's collection of postwar American art, laying the foundation for what is now one of the most compelling museum collections of contemporary art in the world.
Eli would remain chairman until 1984 and a force at MOCA as a Board member and life trustee for decades. In 2008, The Broad Foundation pledged $30 million to MOCA, ensuring MOCA could continue to be a world-class contemporary arts institution that profoundly fueled the cultural scene of Los Angeles.
The 2000 Democratic National Convention Comes to Los Angeles
Forty years had passed since Los Angeles' last Democratic National Convention, when John F. Kennedy accepted the Democratic nomination at the Coliseum and stayed at the Biltmore Hotel. Martin Luther King, Jr. led a civil rights protest down Figueroa Avenue, and Baskin Robbins contributed a special flavor, "candi-date," butter-chip candy and chopped dates in vanilla ice cream. Los Angeles had spent the decades since proving itself a world-class city by building museums and erecting landmarks, hosting the Olympics and creating the globe-spanning, conglomerated powerhouse of Hollywood. Eli wanted the convention to come back to L.A.
At a roundtable discussion in 1993, he pitched President Bill Clinton on the idea and joined a committee to prepare a formal bid days before the 1994 Northridge earthquake hit and derailed the idea as the city focused on its recovery. Four years later, Los Angeles Mayor Richard Riordan (a personal friend since the 1970s) joined Eli to develop a new bid. Eli, David Geffen and Bill Wardlaw became co-chairs of the Host Committee, formally called L.A. Convention 2000, and on April 17, 1998 submitted a formal bid to the Democratic National Committee. The bid included a letter from Eli tucked inside: "This proposal also reflects the inherent advantages of convening in California's most progressive and most populous city. Los Angeles is a perfect testing ground for the ideas and initiatives required of a complex nation as it reaches toward a new century."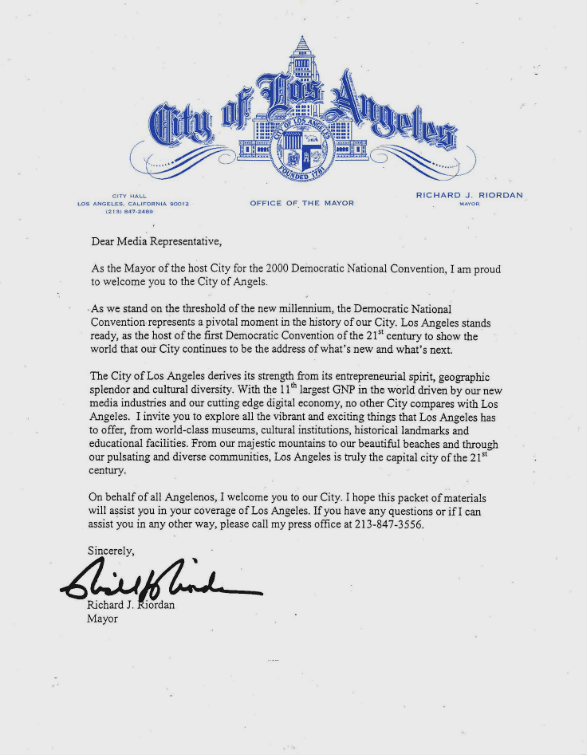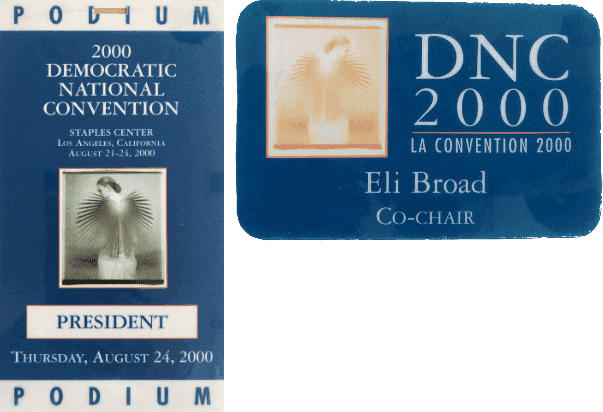 Right: Eli's credentials from the Democratic National Convention, 2000
At the time, California was not a sure win for Democrats, and Eli and the Host Committee launched an intensive campaign to win the bid, using a combination of grit and glamour, and in mid-March, the Democrats declared Los Angeles the winning city for the National Convention.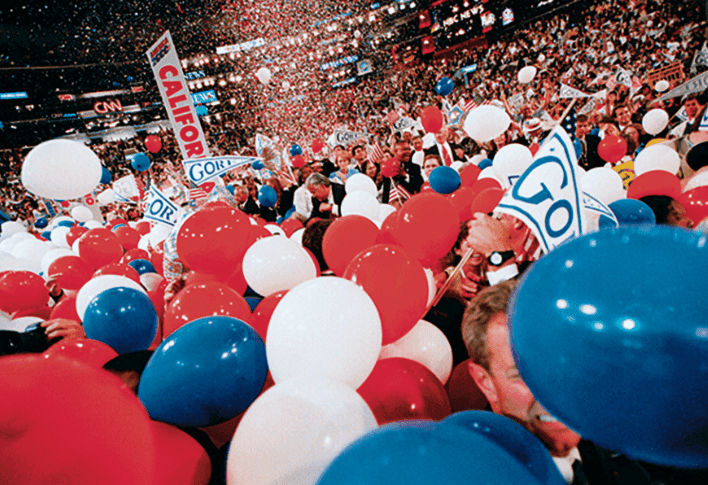 Getty Images: Giboux/Mingasson
I was thrilled that Los Angeles hosted the Democratic National Convention in 2000— thanks in no small part to the efforts of Eli and Edye Broad."
AL GORE, FORMER VICE PRESIDENT OF THE UNITED STATES, THE ELI AND EDYTHE BROAD FOUNDATION, (PUBLISHED IN THE ELI AND EDYTHE BROAD FOUNDATION: 50 YEARS OF GIVING)
In August 2000, about 35,000 delegates, politicians, journalists, protestors and volunteers gathered at the STAPLES Center in downtown Los Angeles for three days of festivities and the nomination of Vice President Al Gore. Through his work on the Host Committee, Eli became tightly connected with the federal, state, county and city political networks that he would leverage as he moved further away from the world of business and into the world of philanthropy.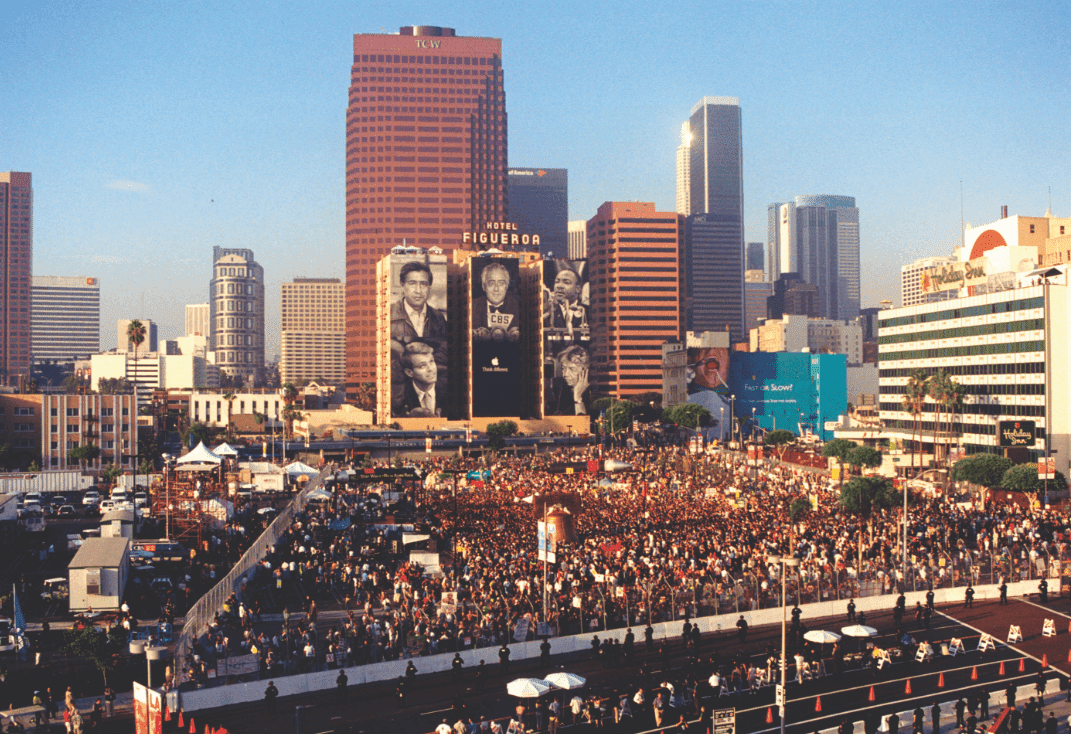 The crowd outside the Democratic National Convention, 2000
Eli believed that the convention would elevate Los Angeles' reputation, just as MOCA and Disney Hall were doing. With the convention, he hoped Los Angeles would come to be seen as a politically, economically and culturally sophisticated American city—and the city of the 21st century.
Rise of the Walt Disney Concert Hall
Eli's reputation for civic institution building was at its height in the winter of 1997 as he was leading the drive to fund the landmark Walt Disney Concert Hall, located across 1st Street from the Music Center. A year after MOCA opened on Grand Avenue, Lillian Disney had donated $50 million—one of the largest single donations to the arts in the country at the time—to create Disney Hall as a new home, designed by Frank Gehry, for the Los Angeles Philharmonic.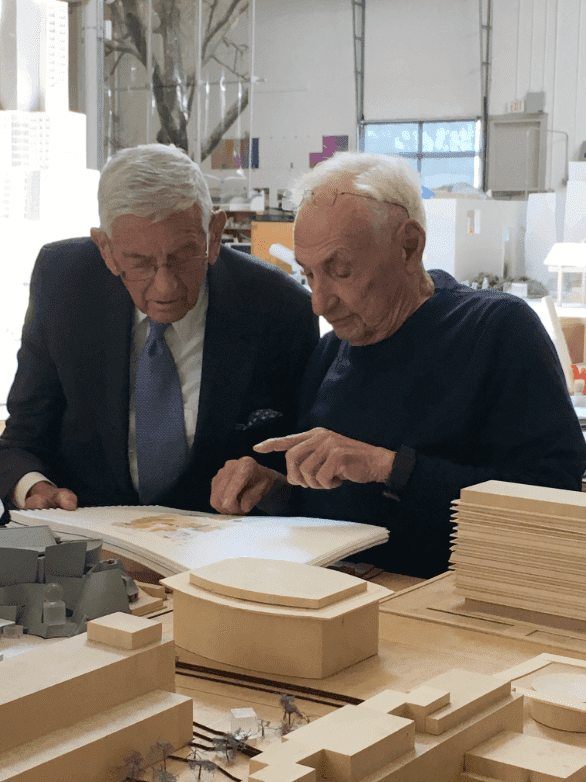 Eli and Frank Gehry at his studio in Los Angeles, 2018
Development of the hall was often delayed due to false starts, lack of funding and unexpected hurdles. But with the support of Diane Disney Miller (daughter of Lillian and Walt Disney), Andrea Van de Kamp, Mayor Riordan and other influential advocates of a thriving center for the Los Angeles' fine arts, they raised the funds to begin construction in 1999, with an estimated price tag of $274 million. The Walt Disney Concert Hall opened its doors in 2003, quickly garnering international acclaim. Disney Hall, Eli knew, was not about the symphony, the cultural elite or the philanthropic class. It was about Los Angeles, its status in the world and its future.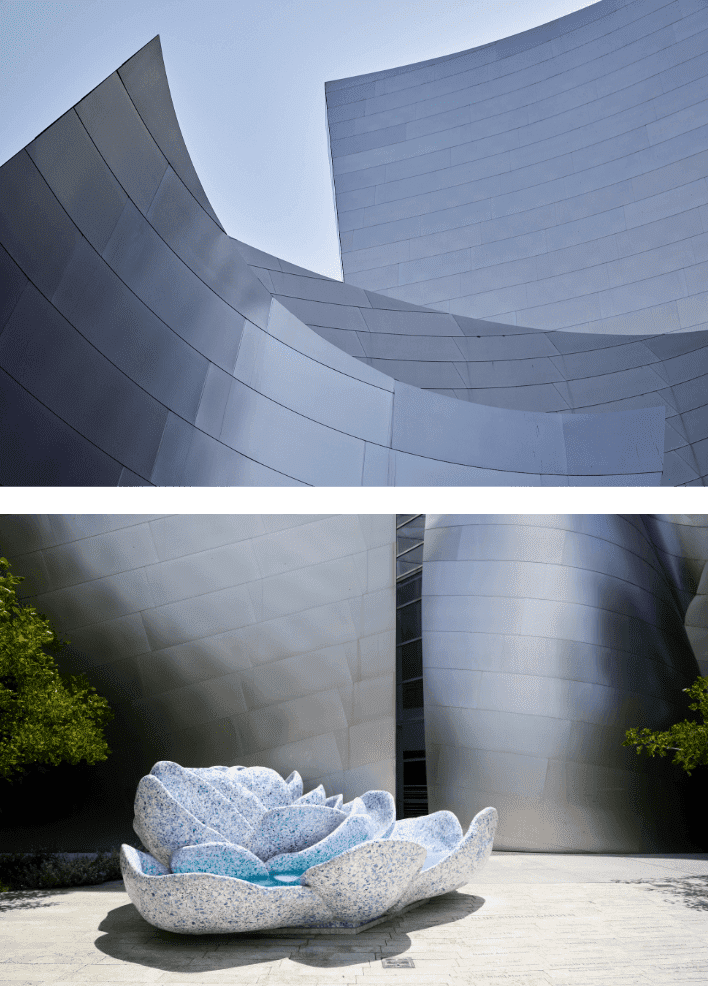 Bottom: A Rose for Lilly fountain, designed by Frank Gehry, in the Blue Ribbon Garden atop Disney Hall. Photography by Walter Smith
Our city was hurting after a recession, civil unrest, fires and an earthquake. Disney Hall wouldn't solve the city's problems, but it would be a symbol of what we could accomplish together."
— Eli Broad, excerpt from essay published in the Los Angeles Times
Eli's Visionary Hand in the Joint Powers Authority and Grand Avenue Project
As they worked on Disney Hall, Eli and Mayor Riordan began discussing the possibility of redeveloping Grand Avenue. The notable street, where Disney Hall was rising, and Bunker Hill, the historic name for the higher ground downtown that Grand Avenue bisected, had developed periodically since Eli's arrival in Los Angeles. However, Grand Avenue had become a series of disconnected landmarks randomly scattered down the street, all situated above a little trafficked subterranean roadway. Pedestrian traffic was virtually nonexistent. Eli believed that in order for Los Angeles to compete with other world class cities, Grand Avenue would need to offer residential space, hotels, cafes, a museum and shops. It needed a master plan.
Developing an entire stretch of Grand Avenue—the 0.9 miles from the 101 freeway to the bottom of Bunker Hill—would require working with not one but two governments: the City of Los Angeles and Los Angeles County. Each owned two of the four empty land parcels by Disney Hall; the county owned the park in full. Creating a large-scale, unified development on Grand Avenue would require an unprecedented level of cooperation between city and county—but Eli was determined to give his adopted home city what he had always believed it lacked: a strong center.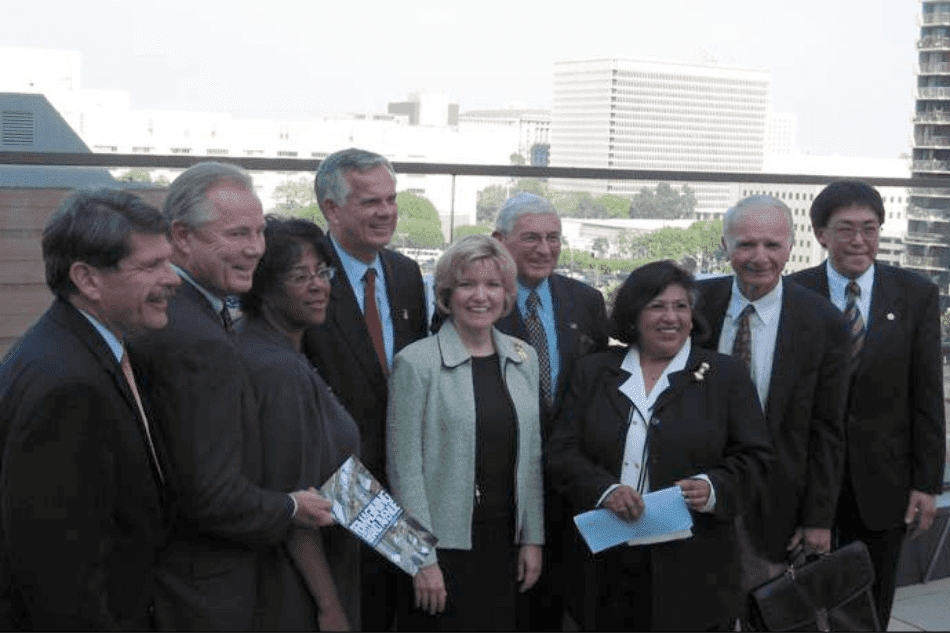 Eli with the joint powers authority in downtown Los Angeles, 2003
By the end of 2001, Eli was co-chairing the Grand Avenue Committee, a small team of civic and business leaders, tasked with figuring out how to streamline collaborative decision-making between two existing government bodies. The Committee found a way to work around the bureaucracy of the two entities: a joint powers authority (JPA). A JPA for Grand Avenue would enable them to holistically develop all four empty parcels owned by the city and county as well as the park along the street.
The Grand Avenue Committee articulated their vision for downtown in a booklet they called "Reimagining Grand Avenue: Creating a Center for Los Angeles." After two years of countless meetings, disagreements and drafts of a "joint powers agreement," the Committee selected a developer—New York-based Related Companies—for a mixed-use residential and hotel complex across from Disney Hall.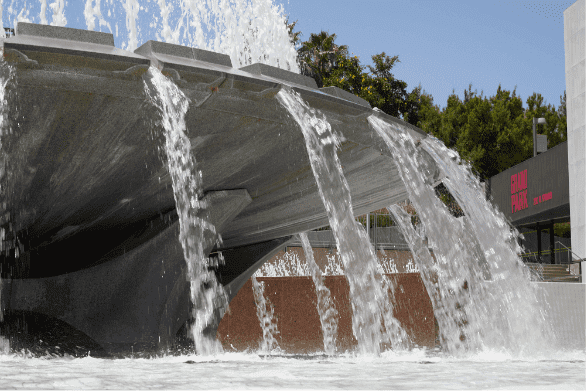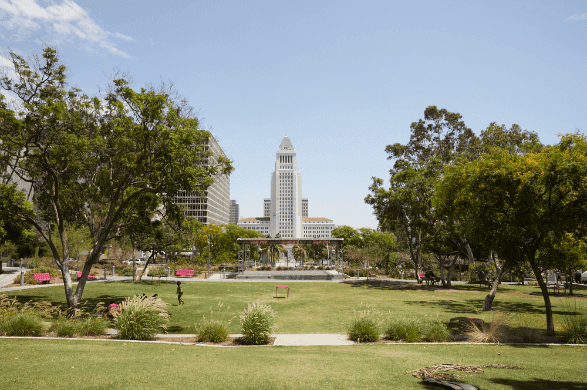 Left and Right: Grand Park, Los Angeles. Photography by Walter Smith
In summer 2012, Grand Park opened, funded by the $50 million deposit plus interest secured from Related eight years earlier, and provided downtown Los Angeles with 12 acres of much-needed green space, including a gathering lawn for public events next to City Hall, a preserved and expanded court of flags, a dog run, a coffee shop, a grove of olive trees, 140 different species of plants, 24 gardens and 300 new trees, mostly palm and other drought-resistant varieties.
Grand Park is a vital gathering place where people from all over the region, of all backgrounds, come together to celebrate New Year's Eve and the Fourth of July, to protest and fight for what they believe in, and to connect with their city."
—Eli Broad, excerpt from essay published in the Los Angeles Times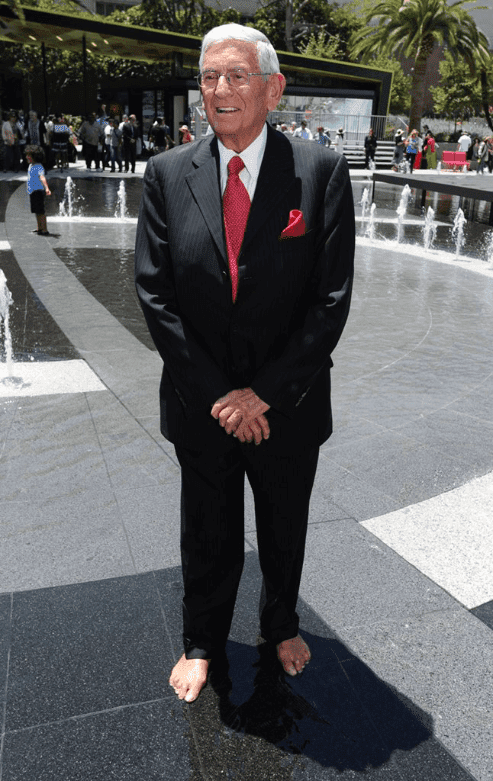 Eli in the fountain at the Grand Park opening, 2012
On opening day, Eli joined elected and civic leaders, proclaiming: "This park was built without any taxpayer money. This is truly remarkable in these economic times." And then, with the turn of a wheel, the massive memorial fountain gushed to life enabling children to splash and play.
Eli's final contribution to the Bunker Hill Section of Grand Avenue would come in the form of Los Angeles' first wholly new art museum to join Los Angeles' cultural scene in four decades: The Broad. The museum was a culmination of more than 40 years of collecting, dedication to arts philanthropy and the "lending library of art" program run by The Broad Art Foundation for over three decades.
Though Eli originally planned to build it in another part of Los Angeles, Mayor Antonio Villaraigosa convinced him that, together, they would work with the JPA to complete Eli's vision for a cultural center in downtown Los Angeles. An architecture competition was organized and New York design firm Diller Scofidio + Renfro (DS+R) was chosen. Their design emphasized the collection that The Broads had built while dynamically augmenting the civic fabric of Grand Avenue.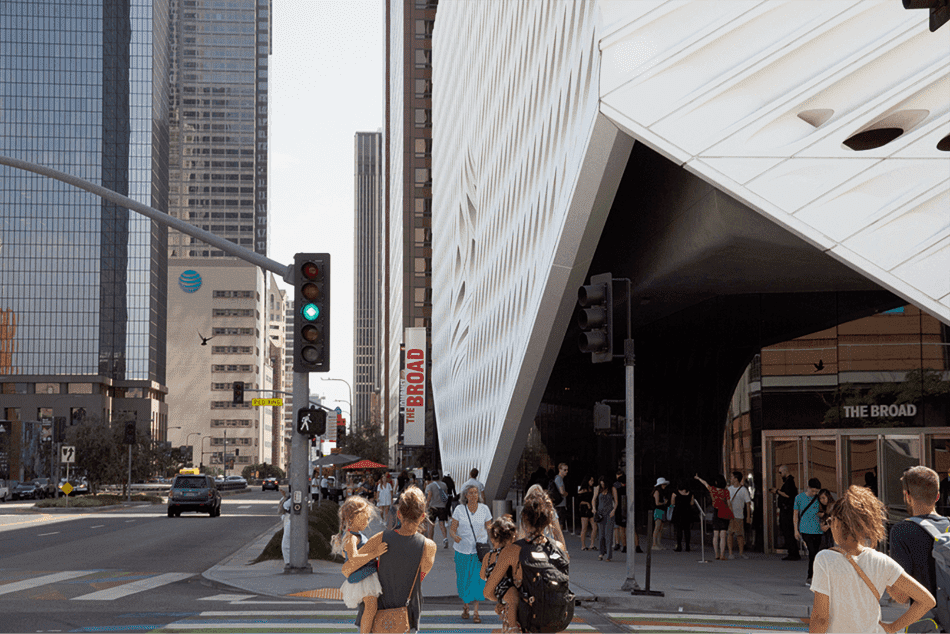 Visitors outside The Broad on Grand Avenue. Photography by Walter Smith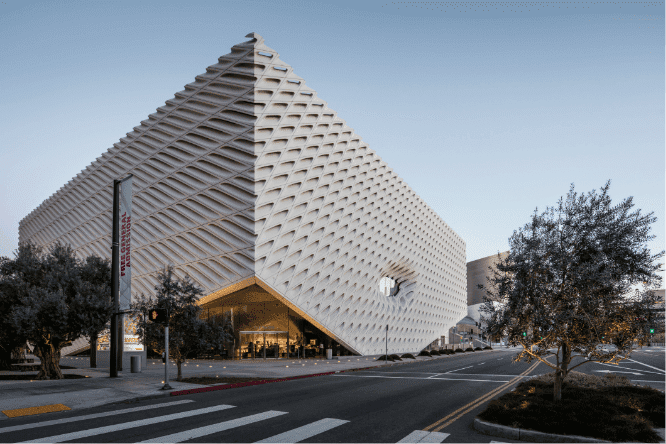 Photo by Mike Kelley
The Broad's dramatic lobby at sidewalk level and its lifted veil at its corners welcome and connect to passersby. Its green plaza to the south, also designed by DS+R, and which The Broad would use for public programming, is also contiguous with the streetscape. Furthermore, the plaza's two new restaurants and The Emerson L.A. 's tower of residences engage with The Broad's plaza and bring the prospect of Grand Avenue as a place that can experience beyond isolated cultural encounters. On September 20, 2015, The Broad opened its doors offering free general admission to view The Broad Collection. With the design of The Broad, DS+R has encouraged a more nuanced, pedestrian-friendly Grand Avenue, where people live, dine and enjoy a dynamic urban environment day or night, inside and outside, throughout the year.
Eli's Stamp on Civic Initiatives
Eli's focus and influence on civic initiatives evolved throughout his life, first channeling the builder in him by adding brick and mortar buildings to the city's skyline, and later by using his voice to elevate issues of particular importance, such as public school reform, affordable housing initiatives, free community college, traffic mitigation and raising the minimum wage. When he retired from the Foundation in October of 2017, the New York Times wrote of his civic efforts:
It is difficult to overstate Mr. Broad's importance to Los Angeles. His vast fortune has shaped the city, from its arts and medical worlds to its reinvigorated downtown."