A Heritage Built on Community Service and Tenacity
Born in 1830, Eliezer often drew crowds from nearby communities in need of the hard-won wisdom of a self-made Jewish man. He launched a lucrative lumber business and married Basha, who bore five children, the youngest of which was Bella Hinda. Bella Hinda wed a handsome, highly educated businessman, Moshe Asher Jacobson. Together, Eliezer and his new son-in-law grew their timber business and enjoyed a comfortable lifestyle. Against the trends of the time when most Jews avoided secular school and girls were not encouraged to pursue higher education, Moshe and Bella Hinda insisted that all seven of their children, including daughter Rebecca, receive a rigorous education—and established a family value that would ultimately guide Eli's philanthropy in science, education, medical research and the arts.
The family's idyll ended at the dawn of the First World War, a particularly devastating conflict for Lithuanian Jews, decimating their town, business and prosperous way of life. Pushed out to face a whole new world, the Tomofsky and Jacobson clans joined the many Jews who launched a wave of immigration to America, with Moshe's family settling in New York City in 1923. That same year, at the age of 93, Eliezer died and his spirit—the business he built along with the wisdom and community respect he had gained—seemed lost, erased by war.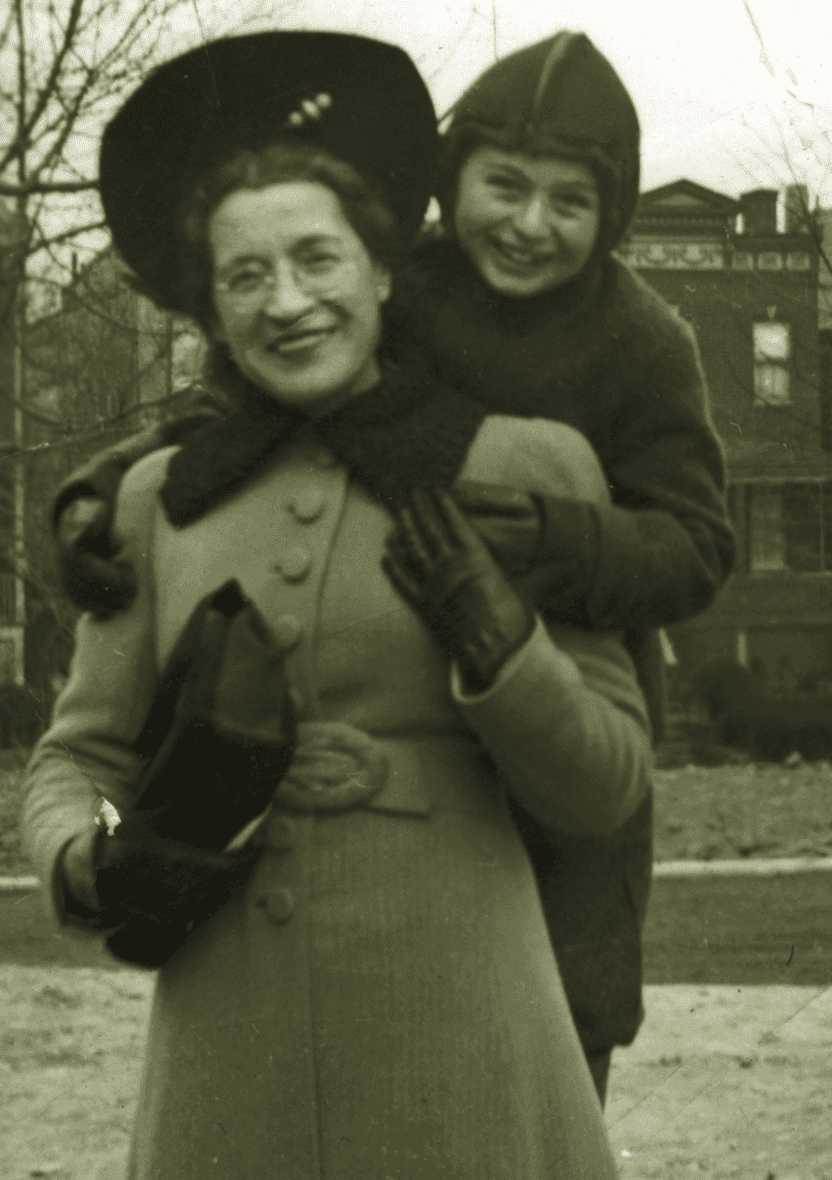 Eli and his mother Rita in Michigan, early 1940's
But Eliezer's spirit would take root again a decade later when his granddaughter Rebecca gave birth to a baby boy named Eli.
From New York to Detroit: The Seeds of Eli's Vision and Entrepreneurial Spirit Grow
A talented seamstress, Rebecca helped support her family through the Great Depression. In 1929, Rita (as she was now known) wed Louis "Leiba" Brod (later changed to Leon Broad), a gregarious man born to a poor family in Vilnius, Lithuania and who now lived in the Bronx. He worked as a door-to-door salesman and joined the Workmen's Circle, a nationwide Jewish social, charitable and political organization founded at the turn of the century that launched a network of Yiddish schools for children and supported the community.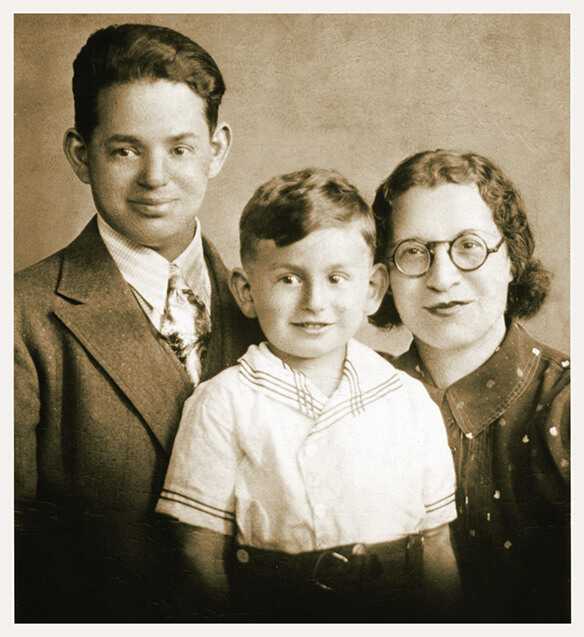 Broad family portrait
Rita and Leon's first (and only) child, Eli, was born on June 6, 1933 at the Bronx Hospital, strongly resembling his father and inheriting his mother's temperament. A fair student with dyslexia and a streak of mischievousness, Eli focused mostly on work, taking up a paper route, studying Yiddish and Jewish history and culture and entering a scouting program. At age seven Eli was enamored by a visit to the New York World's Fair where he glimpsed a future of an imagined midcentury America with planned homes, shining cities and high-tech universities.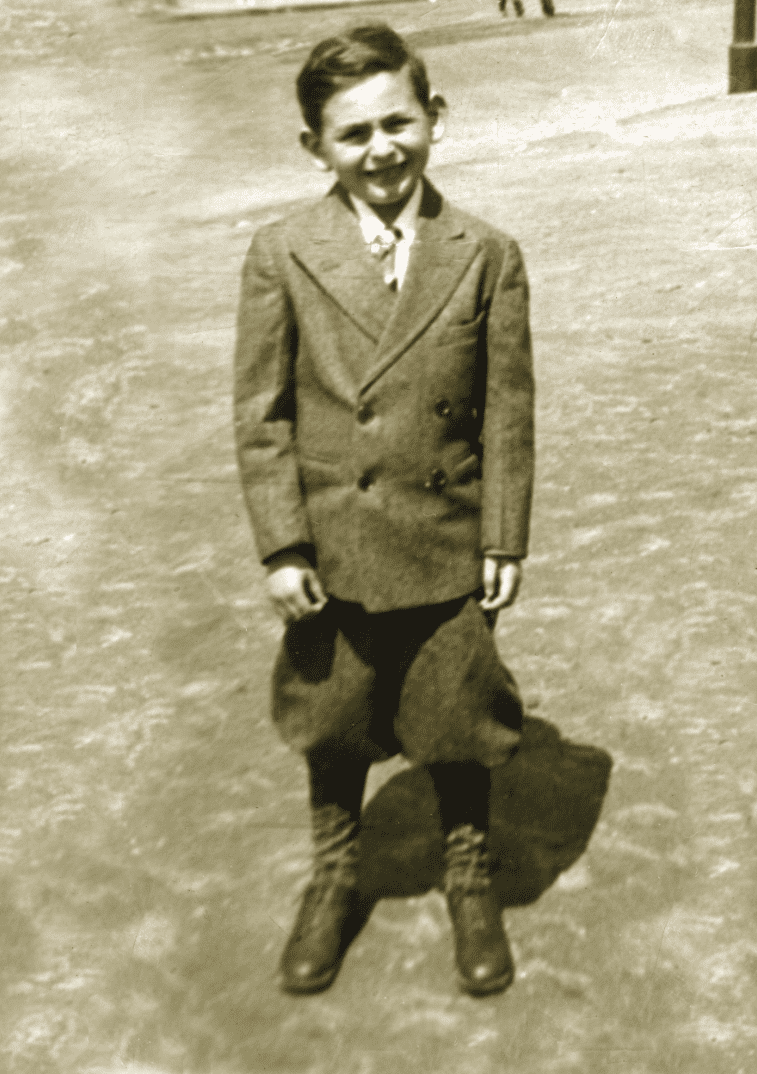 As the U.S. was becoming an industrial powerhouse, the Broads moved to Detroit, where Eli would start to gain the skills he would need to help shape a future much like the one imagined at the New York World's Fair.
In 1939, as the first year of war became an especially tumultuous one for Detroit, the city tried to convert from a depressed to a wartime economy. When post-war rallies started taking over the once-riot-rocked streets, Leon opened that same year his first year-round establishment, Broad's Five and Dime in the Polish section of the city.

Copy of a check from Leon Broad's Five and Dime Store
The economic depths had reignited in Leon the spirit of entrepreneurship that would support his family, lift them from the middle class, move them from city to suburb and from apartment to home, and create the foundation for Eli's eventual career. Work filled the daily lives of the Broads and the city's post-war boom lifted the family's fortunes. In junior high, Eli started his first business: stamp collecting. After high school, he enrolled in Michigan State University (MSU) where he began to exercise his independence and irreverence.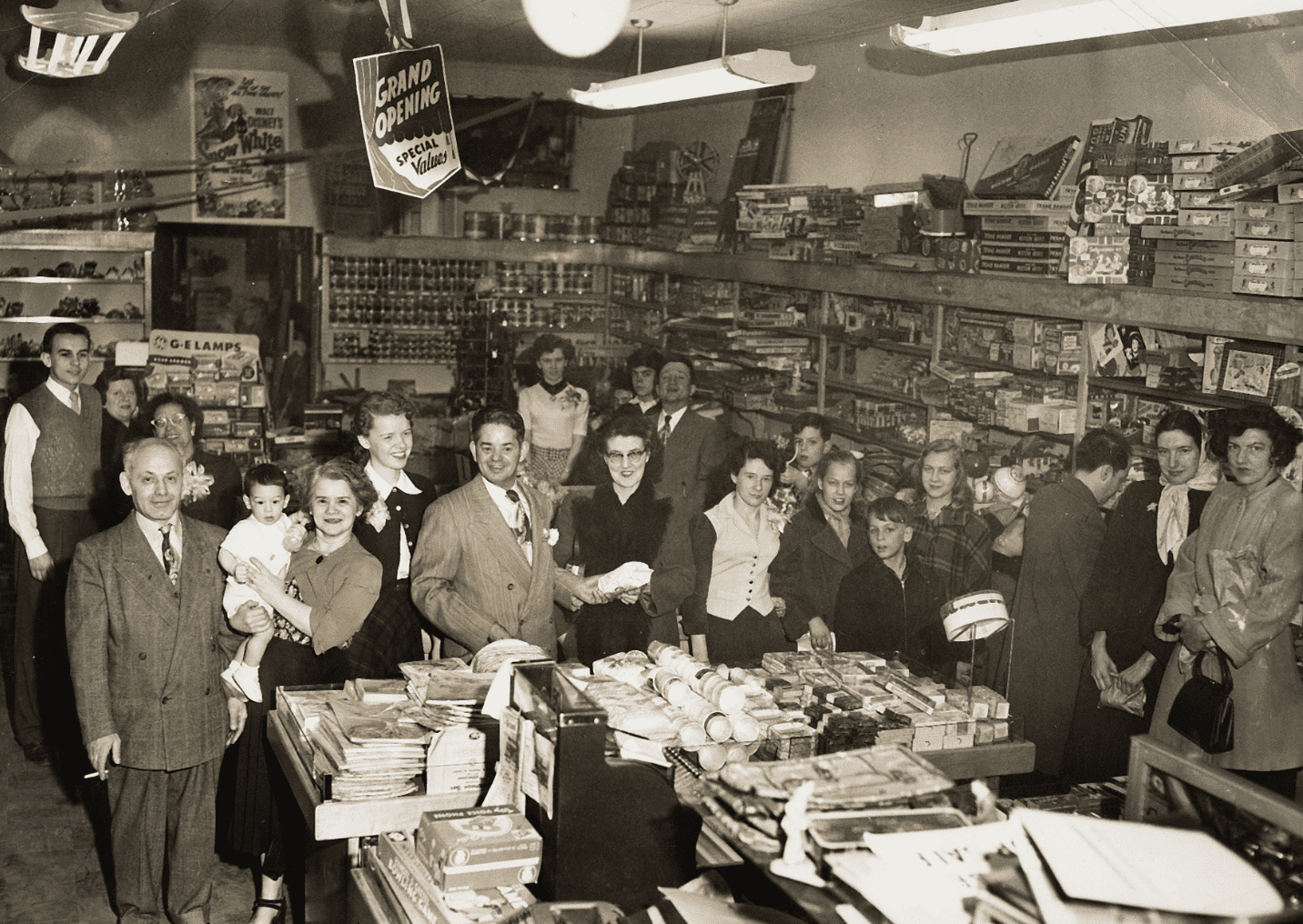 Leon Broad celebrates the opening of his Five and Dime Store in Detroit, Michigan in 1939
The Springboard from Michigan State University into the World of Accounting
In the fall of 1951, Eli attended his first year at MSU, declaring his major as pre-law while mindful he would need to find jobs to pay his tuition. After a lifetime in primarily Jewish neighborhoods and social circles, Eli sought out and appreciated meeting new kinds of people in MSU's student body. He did not return home very often, instead focusing on his schoolwork, enjoying football games and indulging in activities such as betting on horses and joining the Air Force ROTC.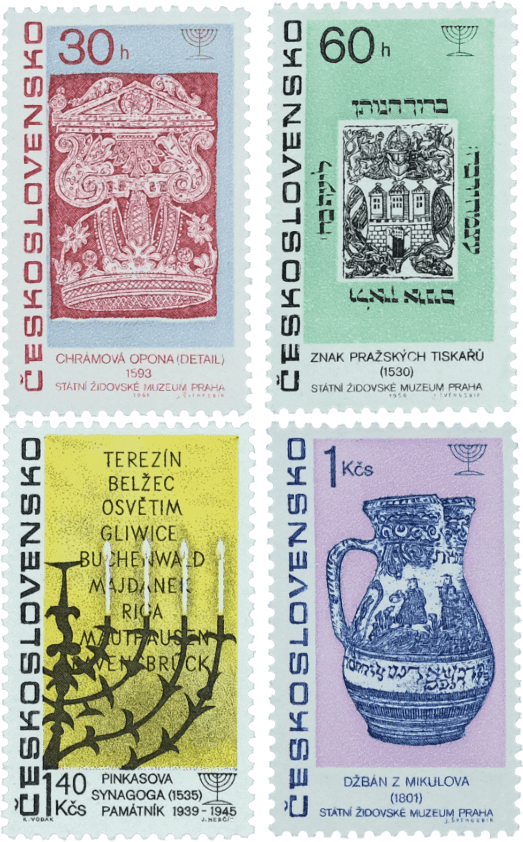 Stamps from Eli's collection
Eli had always been purpose-driven—as a child he routinely turned his amusements, like stamp collecting, into work.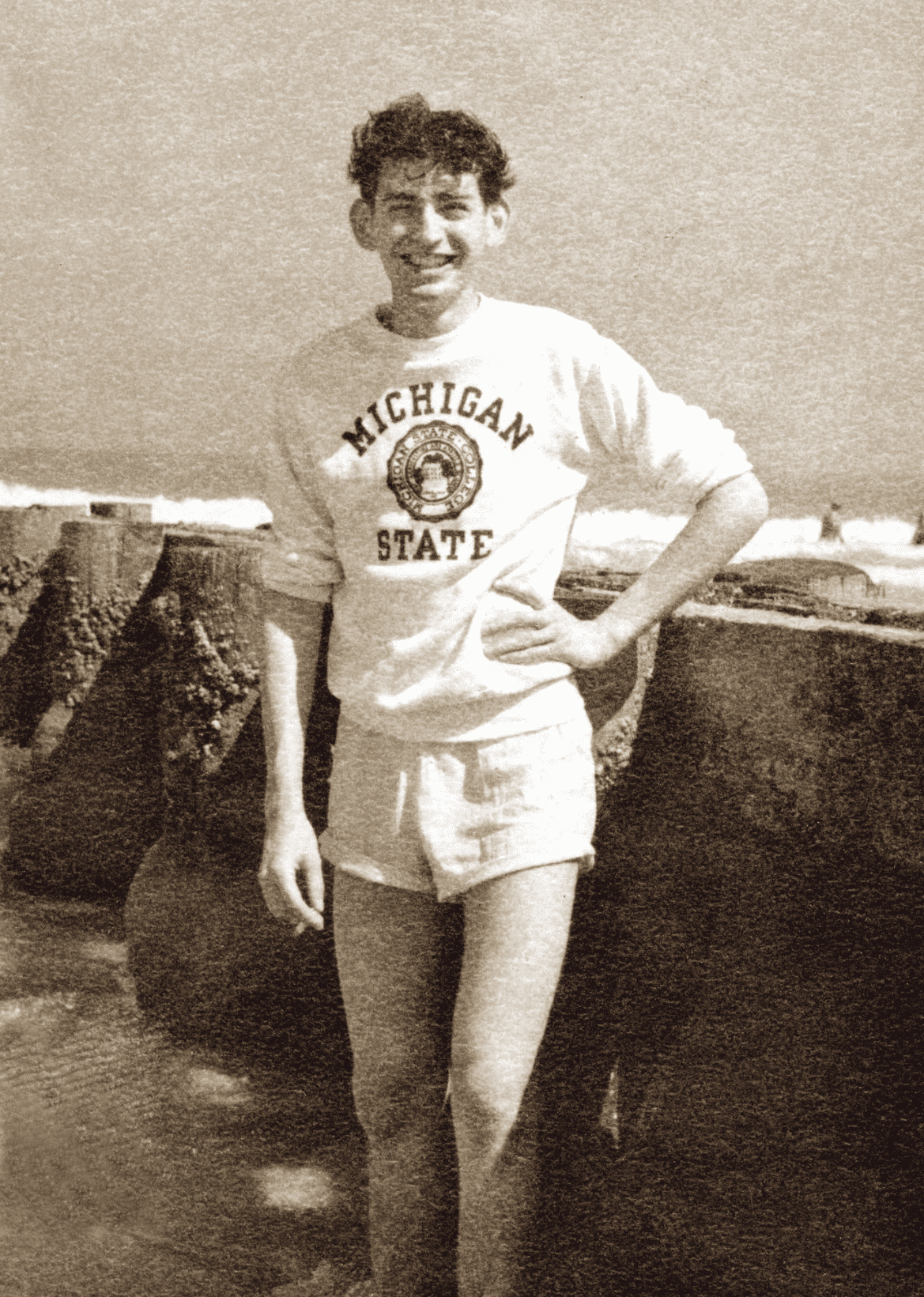 Eli's search for utility, and his view that grad school was a luxury, led him away from becoming a lawyer. In the final week of his first year, he switched his major to accounting and a minor in economics. To fund his tuition, he worked various jobs—from operating a drill press at Packard Motor Car Company, to delivering film for Vaughn's Photo Service, to door-to-door selling of garbage disposals as the "home modernization salesman" for Detroit's Gentle Sales Company. Not every business venture was successful: while in college, he tried his hand at starting a meat-delivery business to MSU's sorority and fraternity houses, but quit shortly after he began because he was not turning a profit.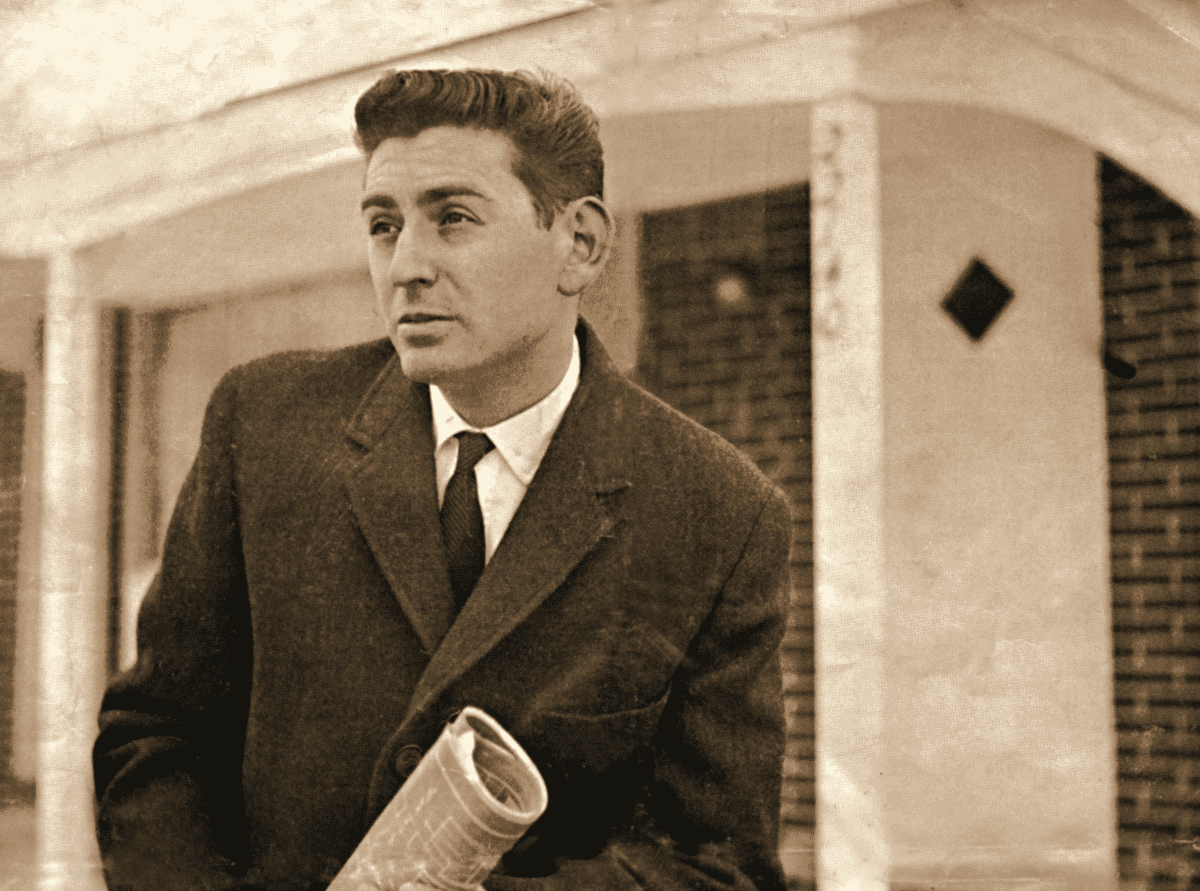 Eli poses for an advertisement for Kaufman and Broad in the 1950's
By paying his own way through college, Eli continued his independent streak, further cementing that if he wanted a helping hand he would find one at the end of his own arm.
In 1953, Eli secured an internship at the accounting firm, Touche, Ross, Bailey & Smart; however, he was disappointed when a full-time job wasn't offered. MSU graduation fell on his 21st birthday, but Eli wasn't in a celebratory mood (though later in life he would host epic birthday parties); instead he focused on his career path. He applied to a small accounting firm, Goldman and Golman in 1954, and eagerly entered the world of accounting.
However successful Eli was during his senior year of college, his greatest achievement of the year was not a particular investment, bet or even passing the CPA exam. It was making a phone call in the summer of 1953, which would connect him to the love of his life: Edye.
The Phone Call that Led to a Wedding
A constant optimist, Edythe Lawson had an ease and confidence that seemed more mature than her 17 years. Together with her sister Beryl, Edye was born and raised in Detroit by doting parents, Morris and Florence Lepofsky (who changed the family name from Lepofsky to Lawson, to shelter their daughters from anti-Semitism).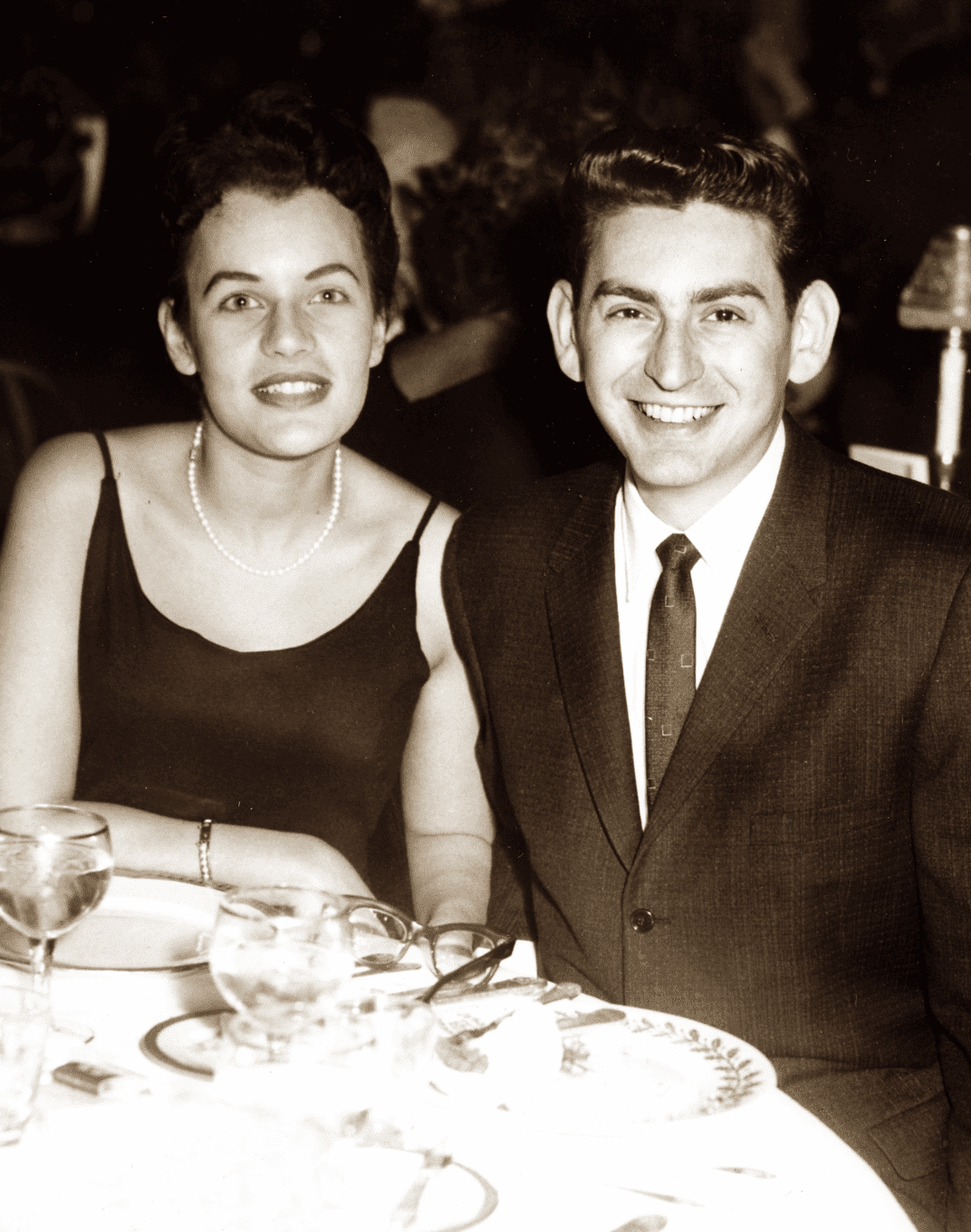 Eli and Edye dine together at the Waldorf Astoria in New York City, 1950's
On September 5, 1953, a Saturday night, the phone rang at the Lawson house and Edye answered. Eli had been given her number by a friend. He liked her immediately, seeing her as kind and thoughtful with a refreshing free-spiritedness. He came home from college every weekend to take Edye out on Saturday nights. After just weeks, Eli gave Edye his version of a marriage proposal. He did not pop the question; instead, one night over dinner, he offered Edye his vision of their shared future.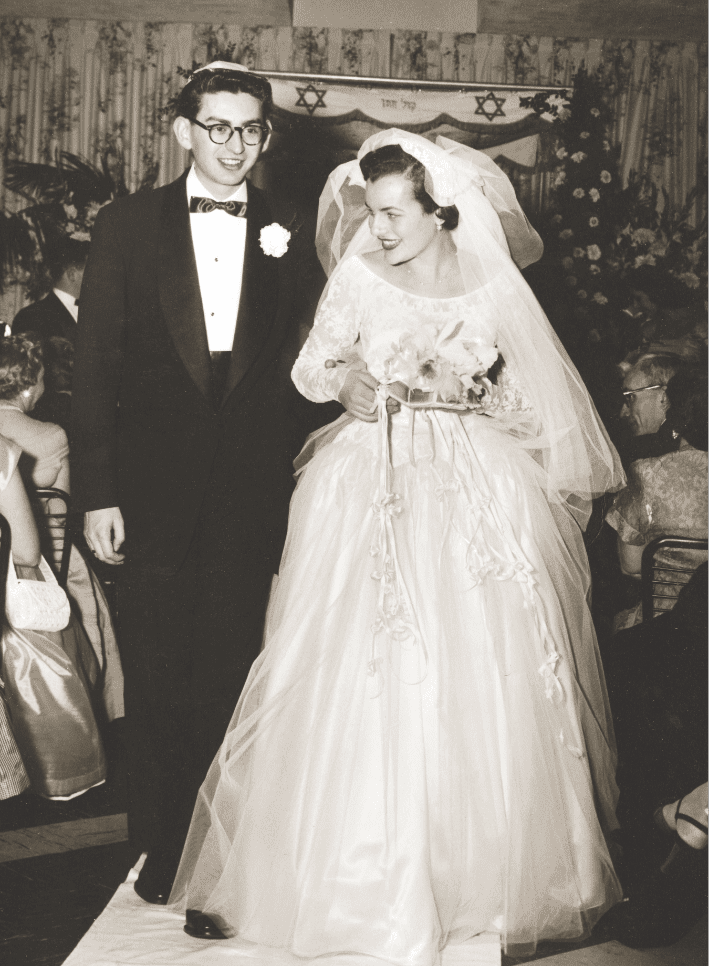 Six months later, with the blessings of both the Lawsons and the Broads, the couple became officially engaged. On December 19, 1954, more than a year after that fateful phone call, Edye and Eli were married at the Rainbow Terrace in northwest Detroit, in a traditional Jewish ceremony, followed by a honeymoon in Miami, Florida. In 1955, Eli took a job at a bigger firm, Alfred K. Lubin, and made a down payment on a house at 15240 Marlow Street in Oak Park, Michigan.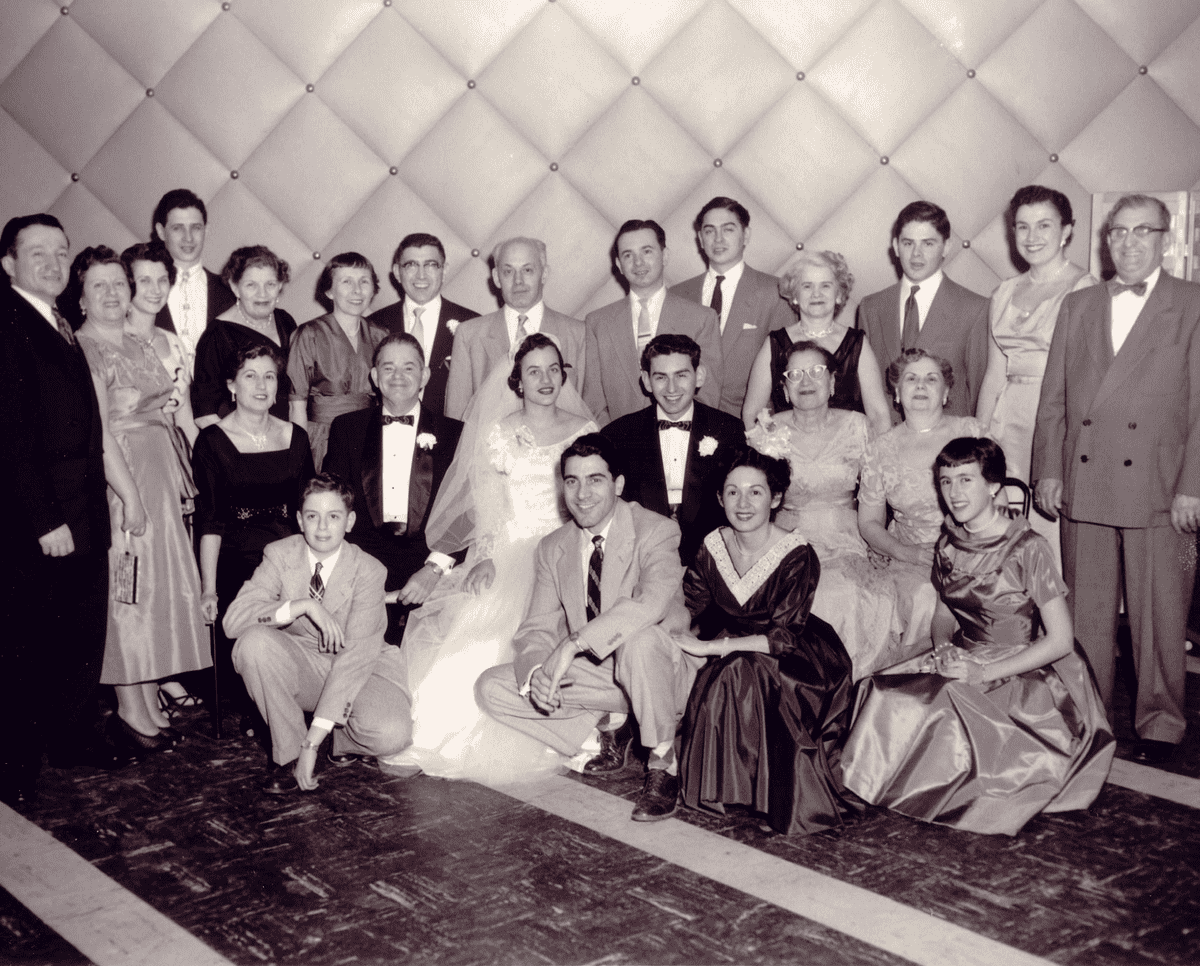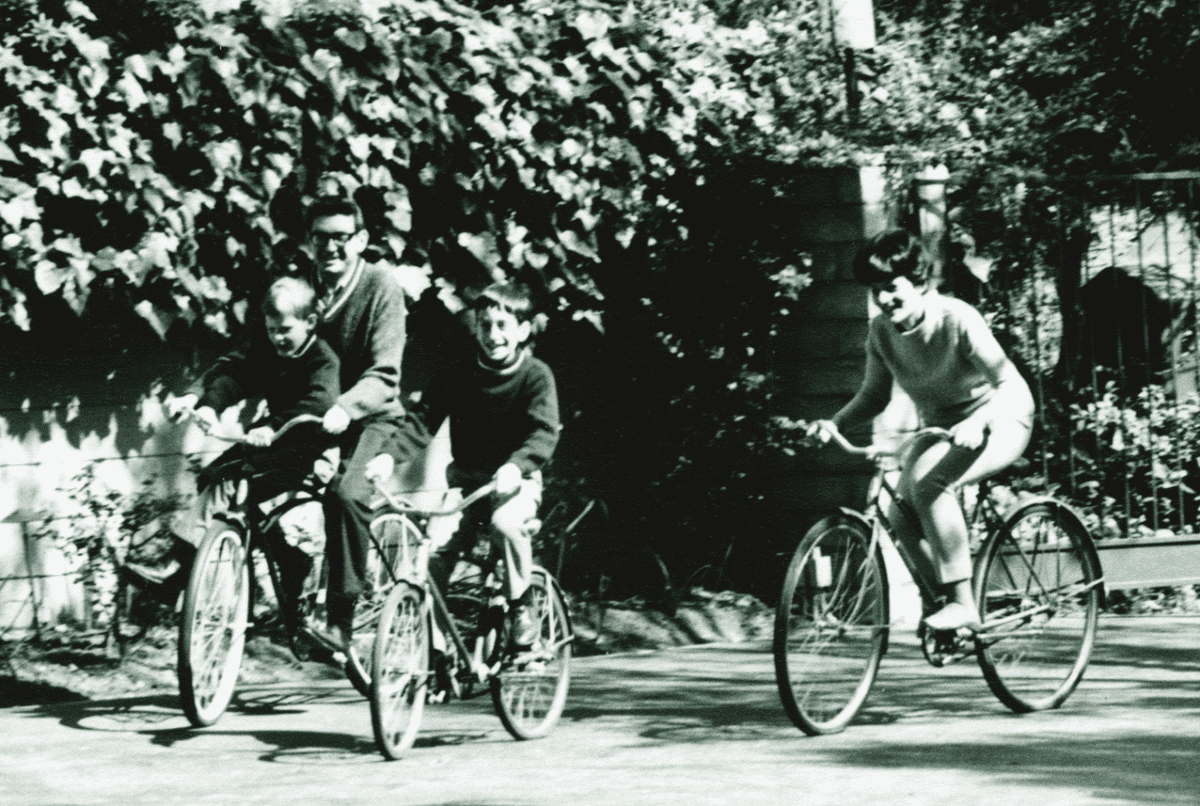 Gary, Edye, Eli, and Jeffrey Broad, 1960's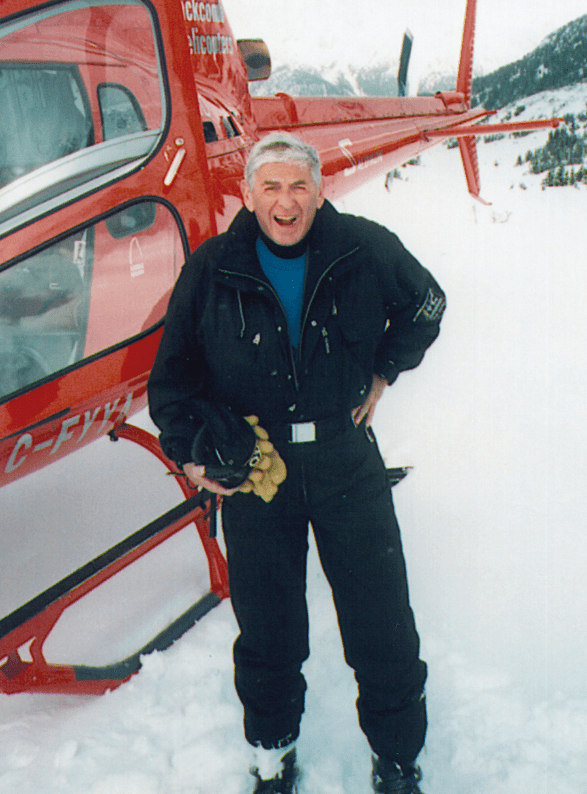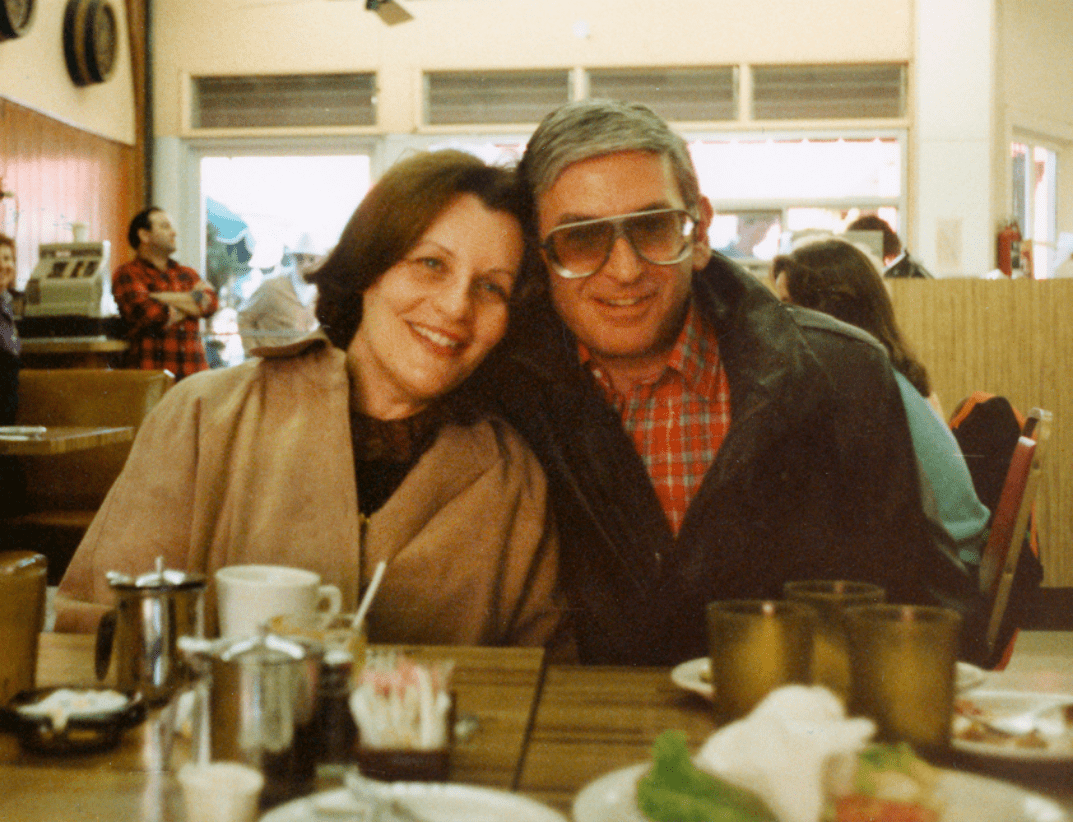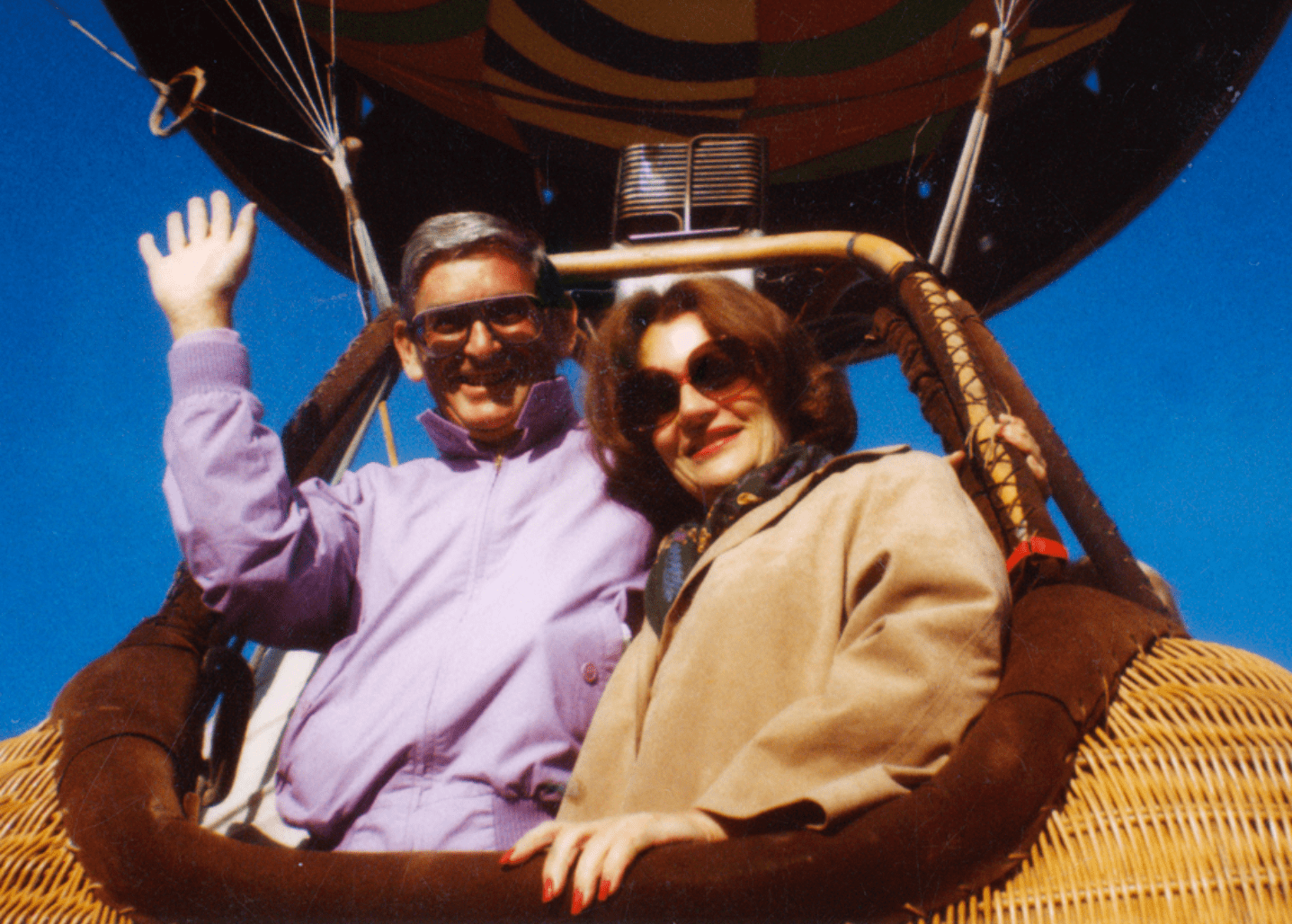 In the years following their wedding, Eli and Edye welcomed two sons and moved West, first to Arizona and then to their adopted hometown of Los Angeles. Their life together was vibrant, full of fascinating people, formative experiences and global adventures that shaped how they engaged with the world, personally, professionally, politically and philanthropically.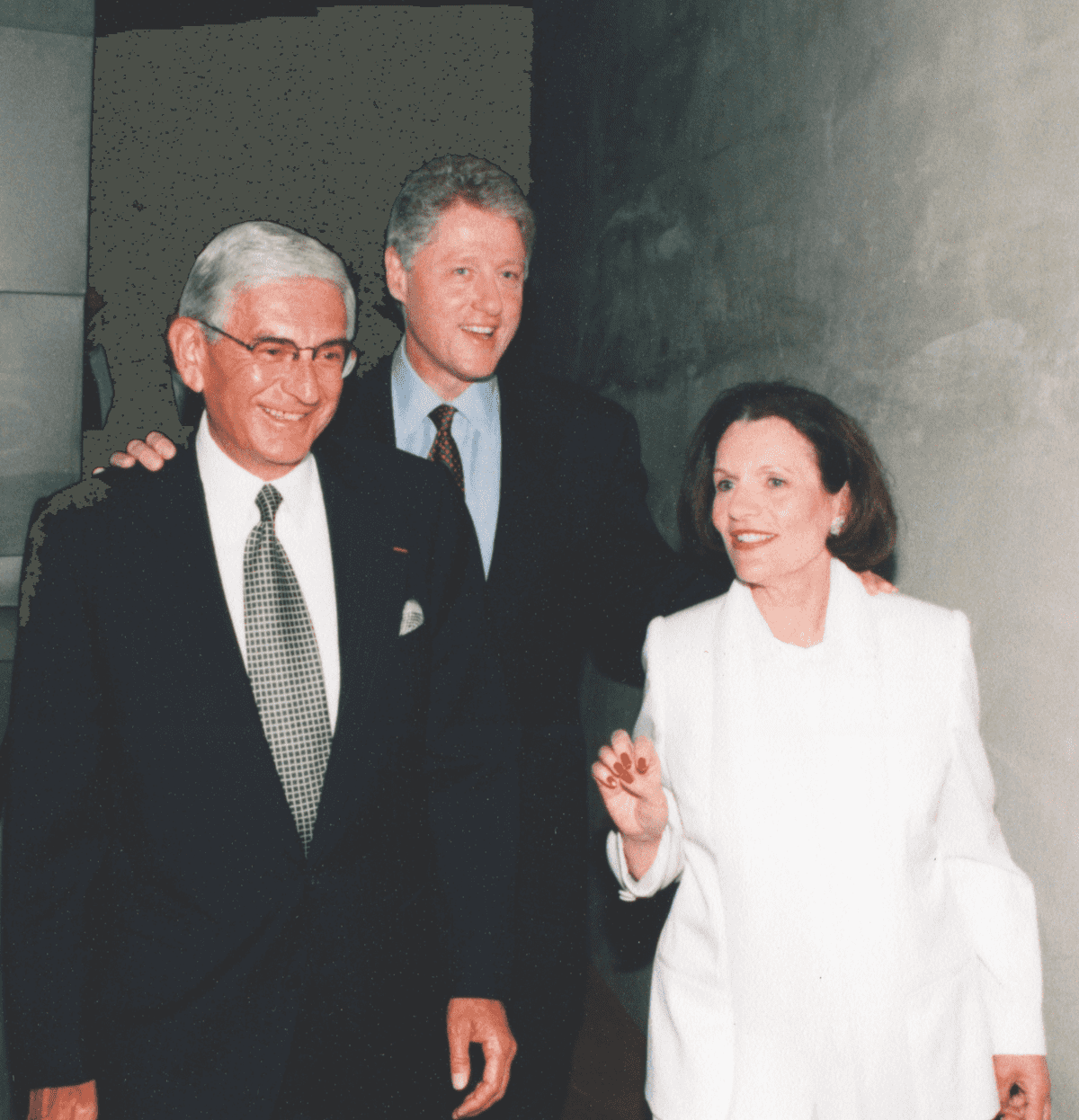 Eli, President Clinton and Edye at their Los Angeles home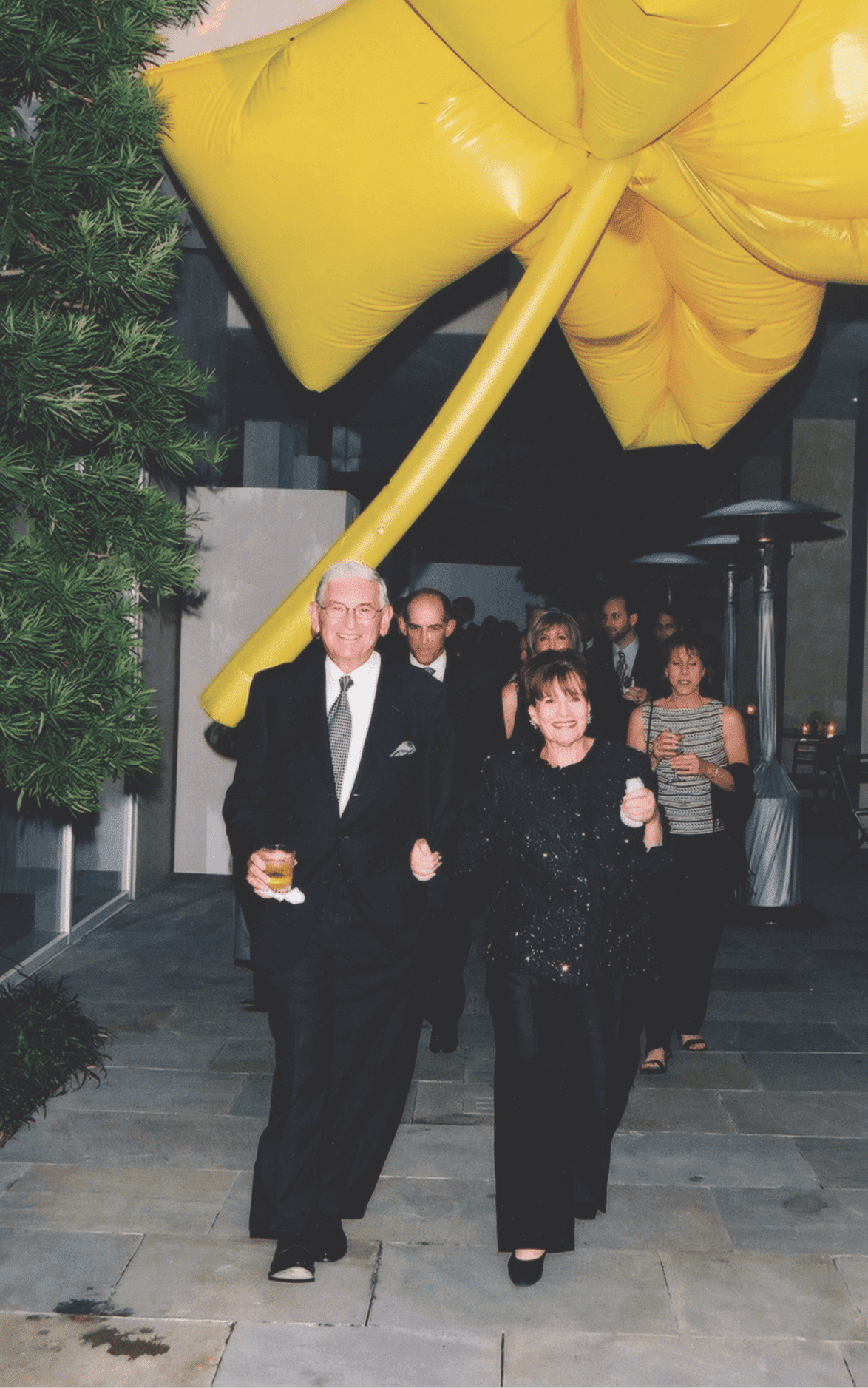 Eli and Edye leaving Eli's 75th birthday party in Los Angeles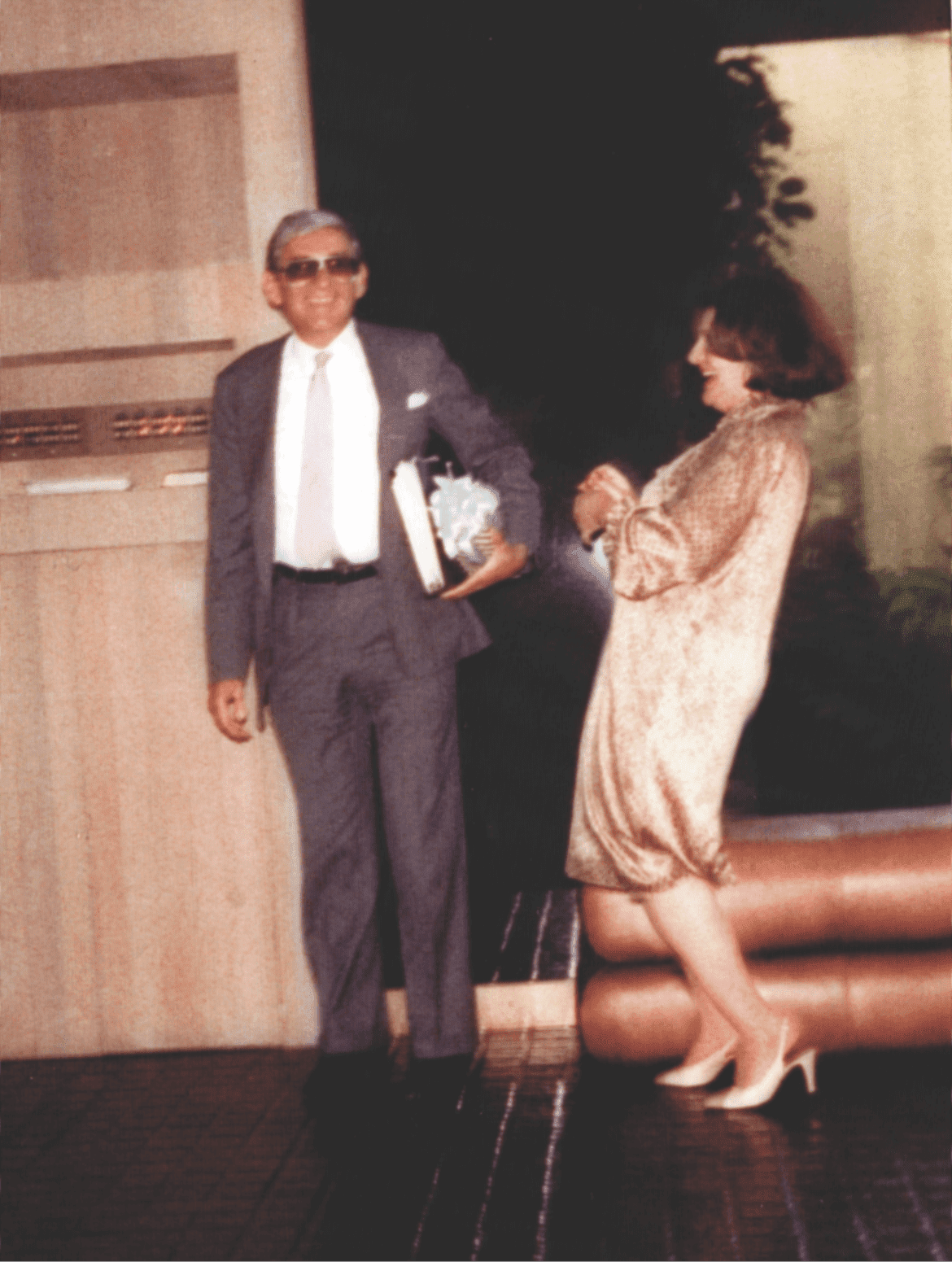 Eli and Edye at a business function, 1970's
The best thing I ever did in my life was to marry Edye . . .
—Eli Broad in "The Art of Being Unreasonable"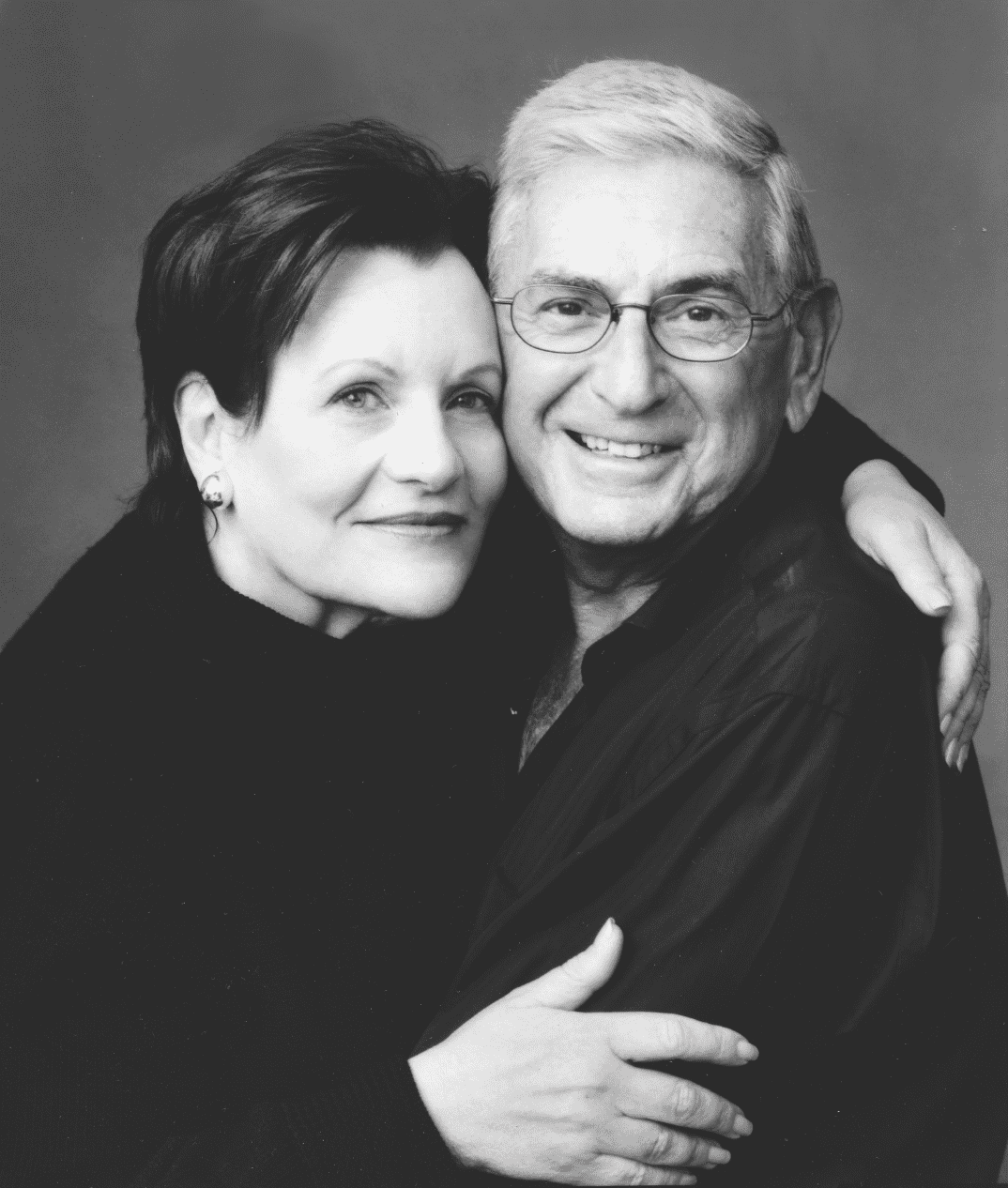 Portrait of Edye and Eli taken by Annie Liebowitz in 2003